Hi friends! Today as part of our Exploring the Basics series of blog posts, Tammy and I are sharing our blocks from the most recent quilt block remix challenge – the Bow Tie quilt block!
The Bow Tie Quilt Block
First, let's look at the Bow Tie block.
The block is fairly simple depending on how you break down the sewing.
A classic remix of the block makes the center into a 3-d effect which is so fun.
The real question was, how was I going to remix the block? 
My Remix- the fabrics
First let's talk about fabrics. I wanted to use my Paisley Got Mod fabrics for this remix- but use the magenta and greens this time. 
Last month I used the blues and greens- click here to see that remix!
After playing around I realized it could be quite dramatic to add some black to the mix. And Island Batik has a line of solids and the black is great. So I had a plan. I didn't finalize the fabrics until I had the design nailed down but those are the fabrics I ended up using.
My Remixed Bow Tie Quilt Block
Can I admit I struggled with this remix? How far to go or not go? But… as I have said many times in these block remix challenges, I love a good secondary pattern.
Aha! A light bulb moment! What if the bow tie was the secondary pattern? Now I had a goal and could really start designing.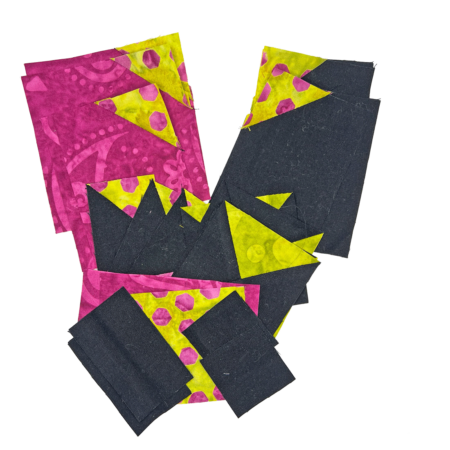 It took a few tries to get the block right but this is what I ended up with. Meet the Cedar block!
I have been naming all my blocks/quilts with the name of the tree for each month.
Piecing the Block
I recently had someone mention that having to sew a partial seam is annoying. Really? I don't mind them at all but with that in mind, I worked out a way to piece the block without the partial seam.
Do you see the seams in 2 of the larger magenta pieces?
But I have to be honest, if I end up making a whole quilt and writing the pattern, I will probably include a partial seam. It eliminates piecing 2 pieces of the same fabric together and I like that better. But you how it is in quilting, everyone has their favorite way of doing things or their NOT favorite way!
The Quilt
I tried the quilt in 2 different settings- one straight sets and one on point.
In the straight set, the bow ties end up on angles.
In the on point setting, the bow ties end up going up and down and side to side. Kind of funny!
Which setting do you like best?
Now be sure to head over to Tammy's blog to see her remix- she is so clever and usually ends up stretching the block into something quite different and truly imaginative!
And if you want to see some other fun and unique remixes- head over to my Instagram page and find the post and click to see the other designers versions of the block!
happy quilting!
Kate
P.S. We are not having a block remix challenge in December but hope to begin again in January 2023. See ya then!
P.P.S. Need a last minute holiday gift for a quilter friend? Or for you?
I got a few more strip packs in and now have just a couple of the Paisley Got Mod Gift Bundles left! Grab one before they are gone – click here!