Hi friends!
Today as part of the Exploring the Basics series of blog posts, I am sharing my block from the most recent quilt block remix challenge – the Clay's Choice block!
The Clay's Choice Quilt Block
First, let's look at the Clay's Choice quilt block.
There are 4 colors in this example- with a center star with a pinwheel and then squares in the outer corners. It's pretty simple construction – just half square triangle (HST) units and squares.
Wonder where it's name is from? It was named after Henry Clay a well know politician around the time of the Civil War.
As with all our block challenges, the idea was to reimagine the block, to look at its parts and remix them into something new.
As with all these block challenges we can go wild, like I did with the 7 Grid Block in February or my Hourglass block remix in April! I also did a really crazy remix last year with the Churn Dash block!
Lately I have been having fun just moving parts around and seeing what happens.
Fabrics for my block
As usual, for all the particiapting designers, our remix posts started with our fabric choices. Of course, while we show the fabric first, it may not have been the first step. For this block, for me, it wasn't first. The design came first. But I love the fabrics I picked.
They are some of the blues and greens from my new batik line, Paisley Got Mod. So yummy!
The Design
For my design, I went back to my plan to have my block remixes have pinwheels in them. Of course, this block already has one! So how can I mix up the pinwheel?
The pinwheel unit was made with HST units- one way to mix them up is to make them from partial QST units or Y blocks (AKA combination units! So many names!)
Want more information on partial QST units? Click here for my blog post on them.
Of course, I still made some HST units!
You may be wondering, why is Jack pictured with my HST units? Because, once I had them made and trimmed, I changed my mind on color and had to rip out and add a new side to half the units!
The Clay's Choice remixed quilt block!
And here is my remixed block!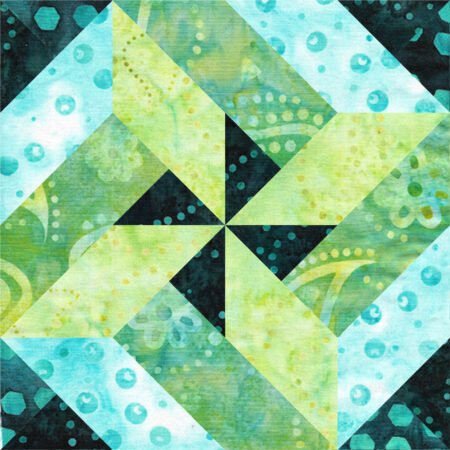 As you can see, the basic essence of the block is there; a pinwheel in the center, a star shape and blocks in the corners. But by simply changing the center from HST units to pQST units, the pinwheel changes.  And by adding more pQST blocks in the corners, they are no longer just squares. The units give the block a lot of movement.
The Quilt
And here is my quilt called Maple. I love how there is the secondary pinwheel that emerges when the blocks come together. Even with sashing added.
In case you missed  it, I am naming all my remixed blocks after the tree of the month!
I actually have the quilt top made and am in the process of having it quilted. I love how this came out. What do you think?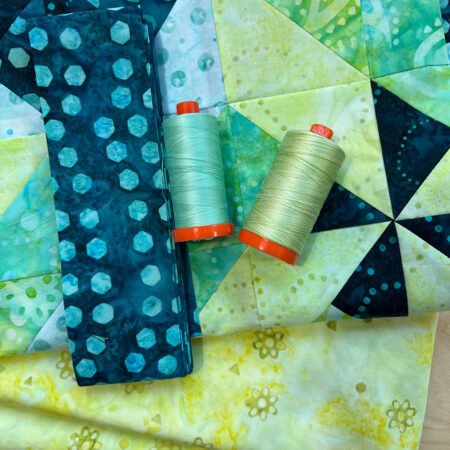 I hope you enjoyed this remix! Want to see some of the other designer remixes? Click here to check out the posts on Instagram!
Next month we will be remixing the basic Bow Tie block. Hmmm…. what shall I do with that one?
Until next time!
happy quilting!
Kate
Like this post? Pin it!
p.s. some people asked me where you can buy the Paisley Got Mod fabrics; I know you can buy them online at Missouri Star. Click here.
p.p.s. I you are looking for some great holiday gift ideas, Creative Spark is having a Handmade Holiday Bazaar On Nov 12th at 9am PT with lots of great ideas for you! And if you can't make it live, they are recording it so you can watch anytime! Use my affiliate link and save $20!!! Click here.