Hi friends! This month we did a brand new block remix on IG and FB- a remix of the Dresden Plate quilt block! And, as part of our ongoing Exploring the Basics series of blog posts, I am sharing how I got to my remix of the block!
The Dresden Plate Quilt Block
Do you know this block? It can have many different looks.
Here is one basic version.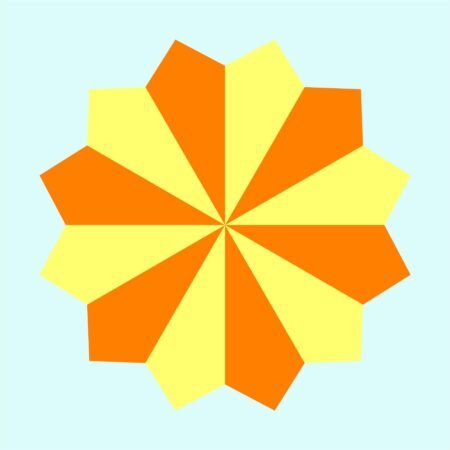 The blades in the Dresden Plate quilt block are usually appliqué to a background square. The blades can be rounded on the end or they can be pointy.
There can be just a few blades or lots of blades. Blades made out 2 different fabrics or scrappy with a lot of different fabrics. And in the center, there is sometimes a circle appliquéd on top.
So many options!
My Remix
SO what is one to do to remix a block like this? It already has so many variations. I started my remix in EQ and first I decided I wanted to piece my block, not appliqué it. Challenge #1 in the remix process.
So I drew a basic block and then thought, what's next?
Basically, I just kept drawing lines….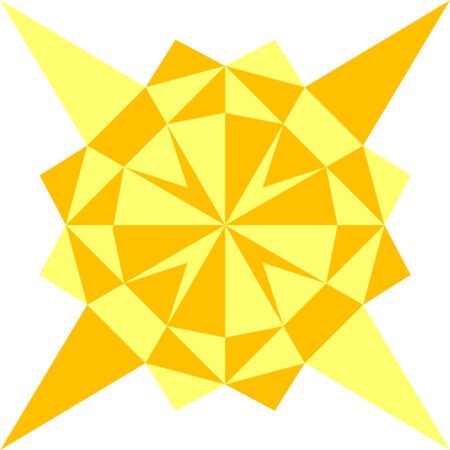 then more lines and adding in other color…
and then I got to a block I liked!
Fabrics
I love being able to play with fabrics from my batik line, Paisley Got Mod.  So I recolored the block using the yellows and greens.
I love the little pops of pink in these prints- just add some fun!
Piecing the Block
Once I had the design, I realized I would need to paper piece the block in sections. So I added more lines so I could piece it and created a paper piecing pattern for 1/4 of a block.
Then I pieced it. Oops!
I messed up the green points in the center! I sewed the 2 outside wedges together and put them in the center and then I sewed the inner wedges to the outside.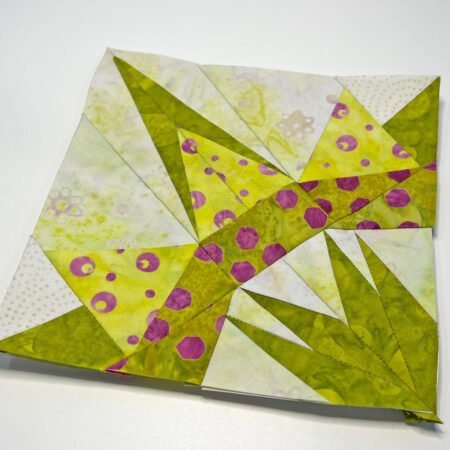 That's OK. It happens and I like making a "test" block to see how it will fit and if it will work. And it will work- as long as I sew them together in the correct order!!
The Dresden Plate Quilt Block REMIX Quilt
And here is what I envision the quilt would look like. What do you think?
I put the blocks on point and created different block colorations so you get that fun center in the design. Looks less Dresden Plate Quilt block and more Mariner's Compass or New York Beauty but still, I think it came out great!
Maybe it's because I love the other 2 styles of block better. I may have been unconsciously influenced!
I am curious, would you tackle this quilt?
It would certainly be a challenge. Lots of piecing, lots of points. Even though this is a tricky block, paper piecing it wasn't too bad. Well, except of course for not paying attention and sewing the center section wrong!
If you need some paper piecing tips, click here.
Tammy is also blogging about her remixed Dresden Plate quilt block- check it out here! Her remix is great – very much in her style. You're gonna love it!
happy quilting!
Kate
p.s. In the next week or 2, I will be announcing my Luna Mystery Quilt Along! I am so excited!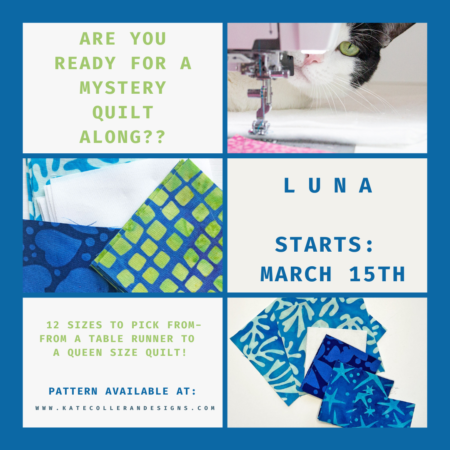 The quilt pattern has 12 options of quilts you can make from a runner to a queen size quilt. The patterns isn't quite ready, still waiting on final edits, but as soon as it is, I will share a link so you can pick your size and pick your fabrics.
And yes, it is named after Miss Luna, my pretty little white kitty who likes to help me sew!