Hi friends! Today I am sharing about my recent block remix challenge of the Lady of the Lake quilt block!
Lake of the Lake quilt block
This is the lady of the Lake quilt block.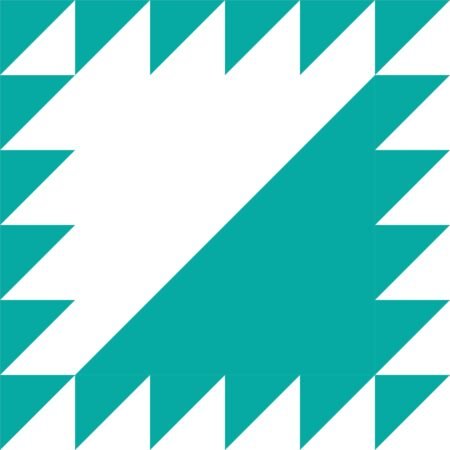 The center is a large HST and it is surrounded by smaller HST units. A block with it's own border!
And it is often a 2 color quilt using a positive and negative color scheme.
It's a great quilt block!
Picking Fabrics
For my remix, I wanted to do a gradient of color and since I usually go for bright and brighter, I wanted to mix it up. Last month, I made the Moda Love Charm quilt! I posted about it on Instagram but in case you didn't see it, here it is!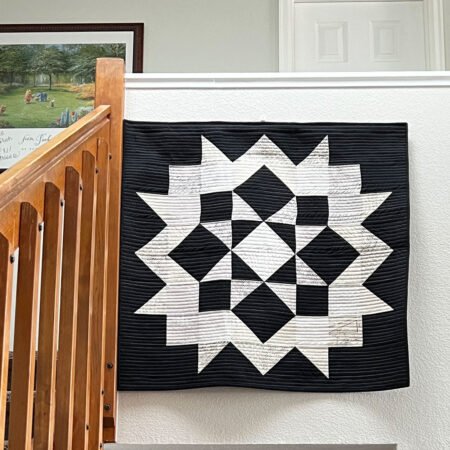 I found this charm pack in my stash from Zen Chic called Modern Background – Paper, paired it with a black solid I found in my stash and ta-da!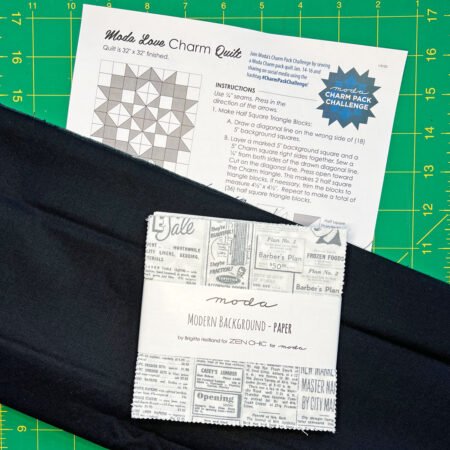 Love that it all came from my stash- even the backing fabric. And I quilted all by myself. A big thing I assure you!
Back to the Lady of the Lake block…
I really liked how my Moda Love quilt came out so I decided on a gradation of grey colors and picked up these Cherrywood fabrics at my favorite local quilt shop, Wooden Spools.
Aren't they great? One of the grey has a hint of blue in it which will be so fun in the block.
The Design
After playing around, rotating the HST units, adding lines, taking lines away, I finally landed on this version for my final block.
As you can see, you can still see the original block in my version. I just tweaked it!
FirstI rotated some of the border HST units, made the center block into 4 colors and the matched the colors from the center to the HST units in the border.
I also added the white to the HST units in the corners for a secondary pattern when the blocks are put together. You know I LOVE a good secondary pattern!
Piecing the Block
I started making all my HST units. For some reason I made this block small so they are small.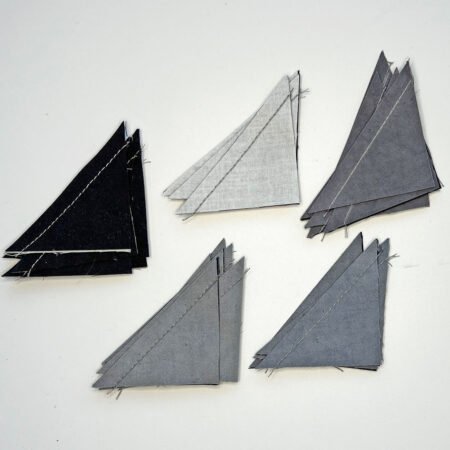 Once I had all the border HST units and then center made, the it was a case of sewing borders. That proved to be trickier than I thought- not hard sewing, just keeping them in the right color order and going the right way!
Of course, in the photo above I hadn't finished the center of the block yet, so n wonder I messed up the order!
My NEW Lady of the Lake quilt block – a small quilt!
And here is my small quilt!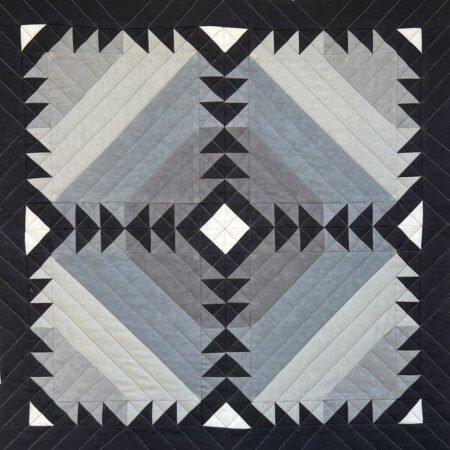 Love it!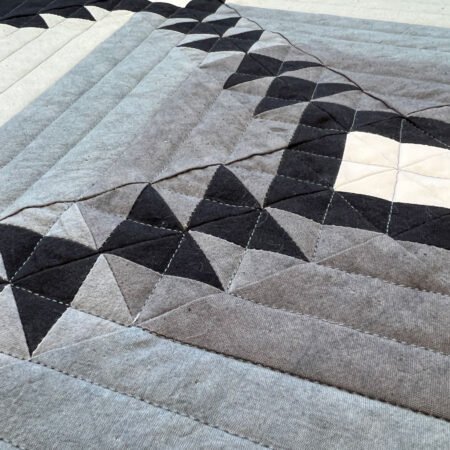 OK – what do you think? I was going to make the larger quilt, but I didn't get enough fabric.
I would like to try it again in a different color palette.
What colors would you use?
I have had so much fun doing these quilt block remixes and seeing what other designers have come up with! I even have turned a couple of the remixes into quilt patterns and I hope to do a few more.
But, we have decided, after 2 years of doing quilt block remix challenges, to end the challenges. I'm going to miss them but it is time.
Maybe a Mystery?
I am debating doing something with one of the blocks I was looking forward to playing with… maybe it will be a Mystery challenge with all of you in the fall!
In the meantime, did you see I am running a MSYTERY QAL in March?
I will do a blog post on it next week but you can get more information here and purchase the pattern to work on what fabrics you will use!
On to the next quilt!
happy quilting,
Kate
p.s. Local peeps- did you see I am teaching at StitchFest in Loveland this April? As I wind down my quilt teaching career, this will be a fun way to go out with a blast! I am teaching 4 of my most popular classes!