Hi friends!
How are you? How is the weather where you are? This week is very nice here in CO. It seems we had gone from early spring to summer in one fell swoop! But yesterday, it cooled off a little and this morning was perfect for a walk around the 'hood. For me, that means a walk around the cemetery that is behind the townhouse!
So what are you up to this week? I am getting ready for some fun things coming up soon.
Classes.
I love to take and teach classes. It is a way to connect with other quilters, learn a new tip and get to play with fabric. Can't beat that!
Next week on Wed June 21st, I am teaching a class at the A Quilter's Choice store in Littleton. The class is geared the newer quilter- someone who has done some quilting but it looking for some tips and tricks.
We are going to make Daisy Mae– a fast fun block that starts with a 4 patch and looks like a modern log cabin.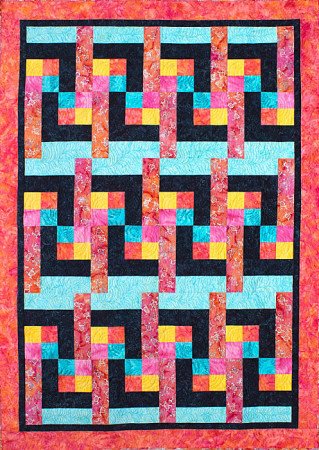 We will cover cutting strips, make a 4 patch and putting the block together as well as ways to rearrange the blocks. Sound good? Click here for more information!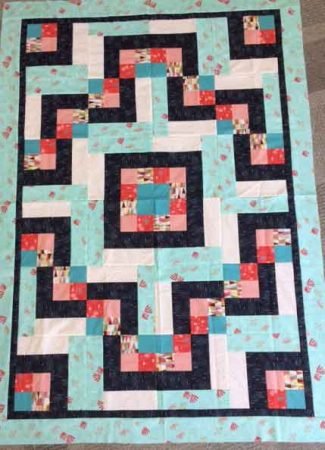 On Wednesday July 19th, I will be teaching another of the Cat Nap quilts, Huey Louie at Nana's Quilt Cottage in Colorado Springs. Huey is also a fun and fast block and we will be sewing strips, crosscutting and putting the petal to the metal! Click here for more information on that class.
If you can't take a class with me locally, don't forget I have a class on Craftsy called 3 Blocks, 30 Quilts ; click on the name to use my affiliate link.
And I have one on Craft U called Creative Quilting for Home Decor.
Blog Hops
I am going to participate in a few blog hops this summer. The first one is called Fiesta de Azucar. The theme is Sugar Skulls and the title means a sugar party.
Who doesn't love a little sugar?
There are 9 designers and we have all designed our own sugar skull block. The hop is sponsored by Island Batik fabrics.
And look whose thread we get to play with!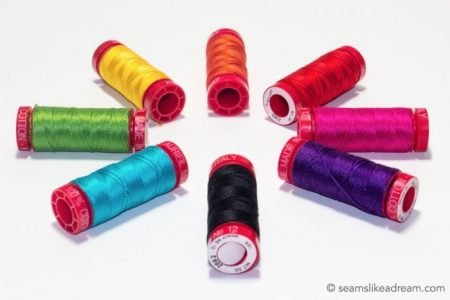 Sugar skulls are usually in memory of a loved one who has passed. I did mine in honor of my mom who passed away many years ago. It will be really neat to see how each designer decides on her theme and then interprets that into her block.
Beginning on July 1st through August 26th 2017 each designer will release their skull design. On September 2nd and September 9th there will be two border designs released. Here's the schedule along with the participants and their blogs.
July 1st – Block 1 – Terri Sontra, Purple Moose Designs
July 8th – Block 2 – Joanne Hillestad, Fat Quarter Gypsy
July 15th – Block 3 – Vicki Hansen, Cranberry Pie Designs
July 22nd – Block 4 – Cheryl Sleboda, Muppin
July 29th – Block 5 – Penni Domikis, Cabin In The Woods Quilters
August 5th – Block 6 – Tammy Silvers, Tamarinis
August 12th – Block 7 – Kate Colleran, Seams Like A Dream Quilt Designs – ME!!!
August 19th – Block 8 – Susan Emory, Swirly Girls Design
August 26th – Block 9 – Trish Frankland, Persimon Dreams
September 2nd – Border Option #1 – Tammy Silvers, Tamarinis
September 9th – Border Option #2 – Terri Sontra, Purple Moose Designs
October 30th – Prize winner announcements
Doesn't that sound like fun? We even have a Facebook group if you are on Facebook where you can see what is going on. And some designers are posting sneak peeks of their blocks. Click here to go to Facebook and join the fun!
I have another blog hop in July; I will tell you about that soon. And one in August and September! Keep watching for more information.
Row by Row starts soon- June 21st. So, here is the question: Are you a Row by Row-er? Do you travel to be able get rows and see the shops? I would love to know if you are planning a summer trip and where. The theme this year for the blocks is On The GO. It seems like the perfect theme for a little shop hopping!
Click here if you want to find shops in your area or maybe plan a trip.
I am hoping to get back to the east coast later this summer and I may do a little shop hopping and row by rowing myself!
happy quilting,
Kate
SaveSave