Hi friends!
How are you? On the blog today I have a link to my friend Kari Schell's post. Kari is an EQ7 expert and her website is called On Point Quilter. On her site she has videos and classes about using EQ7. So if you ever thought about using EQ, or if you need guidance, Kari is your gal!
Kari contacted me because she was intrigued by the braid quilts I was creating using my Braid Template. Today, she has a video on how to create blocks in EQ 7 using the braid design and how to create your own quilt designs. Pretty cool, huh? Click here to go see her post and video.
I have 2 videos on how to cut and piece blocks using my Braid Template. If you missed those, you can click here to see them.
Today, I thought I would show you some color options for your blocks.
Option 1– colors. There are many ways to add the fabrics in your braid. You can randomly mix them up, or put them in an order pleasing to you and add each fabric one at a time.
When I am using a planned order with an even number of fabrics, I like to then reverse the order so the fabrics aren't always on the same side of the braid- makes for a more scrappy look.
Another option is to repeat the color across the braid. So every time you add a strip, the next strip is the same fabric.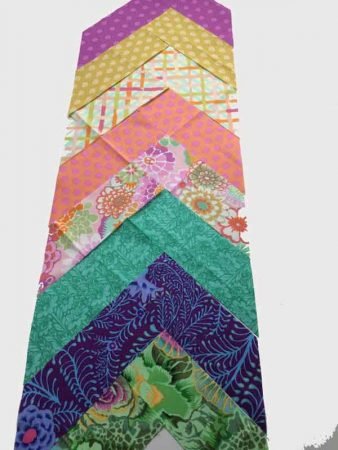 Another color option is to choose strips in two colors- when you look at one of Kari's quilts, she used a bunch of reds on one side and grey fabrics on the other. That is a fun look.
Option 2– adding a square to make what some people refer to as a French Braid. This is pretty easy. You cut the squares the same width as your strips- so if you are using 2 ½" strips, cut your squares 2 ½" x 2 ½" . First add the squares to the left side braid pieces and then build as usual.
Kari said she found she just had so much fun designing braid quilts she couldn't stop! I feel the same way about cutting and sewing them. They are just fun. Easy. Relaxing. Maybe a little addictive! And a great way to use up fabrics in your stash.
In honor of our little Braid collaboration, I have a sale for you. This week, the Braid Template and the companion patterns are on sale. No code needed. The Braid template is great to use to cut your pieces once you have designed your own quilt in EQ. Or if you prefer a pattern all ready to go, I have a few for you- Crosscut, Table Scraps and Two Step.
I also created a bundle for you- it includes the Braid Template and my book, Smash Your Precut Stash. The book has the pattern for the original braid quilt that started me on this path. Buy them together and save!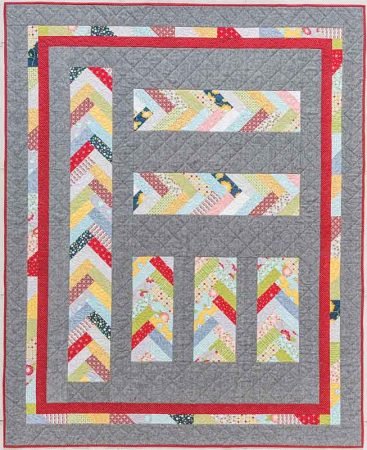 So get going- smash your stash (precut or otherwise!) using the braid template and have fun designing quilts! Comment below – I'd love to hear what you're working on.
happy quilting,
Kate