Hi friends! Today I want to chat about how get started if you have ever dreamed of learning to design fabric.
Post contains some affiliate links which means if you click on them and use them to purchase, I will earn a small commission. You will pay no extra!
Fabric Design
In this post last year, I talked a little bit about my journey to learn how to design fabric. If you have read that post, you know that my first foray into the world of design did NOT go well! Unfortunatley I met the design world version of mean girls!
I was so discouraged and deflated.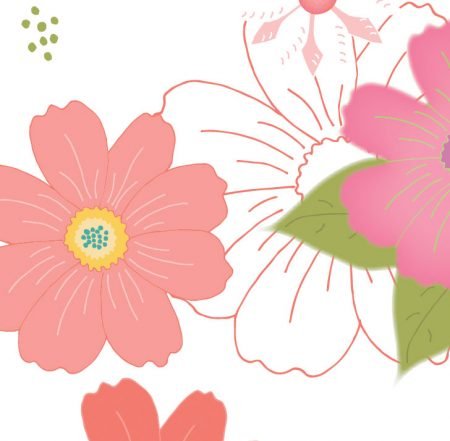 But… years later I saw some free online classes. And I took them. They were from 2 fabric and surface pattern designers. One was Anne LaFollette and another was Bonnie Christine. I actually heard of Bonnie through Anne.
Those free courses were amazing! They were both so generous with what they were sharing and it made me excited and ready to learn more.
They were the exact opposite of the mean girls I met the first time!
I thought to myself, yes, I can do this!
Because of those free courses, I felt very comfortable investing in Bonnie's full course on learning about  how to design fabric and repeat patterns and the surface pattern business. The course is called Immersion. I knew at some point I had to invest in myself and in my business if I wanted to move forward. this course seemed like the right step.
And it was.
The Beginning of the Journey 
That is not to say that this journey has not been all smooth sailing for me. Doubts and negative thoughts are often the voices in my head. Actually, they are the often the voices in all our heads. It is our brain's way of protecting us!
But I am so lucky. Island Batik approached me about designing batik fabric and while it took me a very long time to finally submit, they were encouraging and supportive. And they have shared information and guided me along the way so I can continue to learn and improve.
Immersion Course
Bonnie's course, Immersion, opens up once a year. And it will be opening up again soon. I am so excited to be an affiliate for her course. I believe in it.  Her fabric that she designs for Art Gallery is beautiful. She is warm, giving, and shares so much information. Her statement the other day says it all: her heart is is in serving her students.
Why am I posting about it? Because this course changed my business. It changed my mindset about people in the design word and my mindset about what I could accomplish. It gave me what I needed to be able to reach further, try something new, learn a new skill and create designs!!!
And I want anyone else who has ever thought about design to know there is help, a supportive community and wonderful people that can help you learn a new skill.
This course might be for you even if you don't want to make it a business.
Maybe you want to create your own fabric to make fun clothing for your grandchildren.
Maybe you want to create your own scrapbook paper or stickers.
Maybe you want to create a design and have it printed on mugs for all your family as holiday gifts!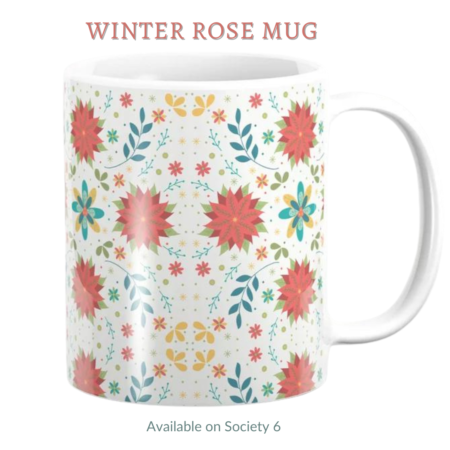 Like my mug that I created on Society 6 that uses my print from a collection I called Winter Rose. Want to see more of the designs in the collection? Click here to see some of them on my Surface Design page or here for the ones I have on Society 6!
There are so many different things you can do with surface design once you know how to create patterns.
Free course
Want to learn more? Bonnie's free course, Secrets to Success in Surface Pattern Design, is open for registration now. In it she will share lots of great information about:
How to craft a career (and life!) you love in surface pattern design
The essential stages to becoming a designer
Mapping out your personalized road to success
Creating income as an artist and adding multiple streams of revenue

She will also share information on her upcoming full course on surface pattern design, Immersion. You will earn so much from her.
If you'd like to register for the FREE Workshop, you can do so right here. 
I'll be there too and can't wait to hear what you think!
happy quilting,
Kate
p.s. Have you signed up for the Quilter's Color Mixer Course at Creative Spark? It should be a great day, full of really interesting content on color from some truly exceptional teachers. Including me!
Click here to use my affiliate link to learn more about this course AND to save $20!!
p.p.s. Wondering when the doors open to sign up for Bonnie's full Immersion course? It will be open for registration Feb 21-28. Course runs March 6th – May 1st but you have lifetime access to all the lessons so you won't miss a thing!