Hi friends! Today is the Sea Cookies batik fabric reveal and giveaway!
Looking for the FQ giveaway? Go to the end of the post! 
Giveaway is closed! Thanks to all who entered!
Sea Cookies Batik fabric
Sea Cookies is my second batik line that I designed for Island Batik! I am so in love with this line. One of my favorite places to be is the beach. Sitting by the shore, watching and listening to the waves is my happy place. My calm, zen place.

So I was excited to work on a line that featured motifs from the shore.
The Drawings
To start the line,  I began by looking at all my sea shells. I have a collection of shells that I have gathered when I travel to the beach. I love my sand dollar and that was the main focus of my drawings.
After making drawings, I pulled them into AI and cleaned them up and started creating patterns. I love the wonky edges, the hand drawn feel of the motifs.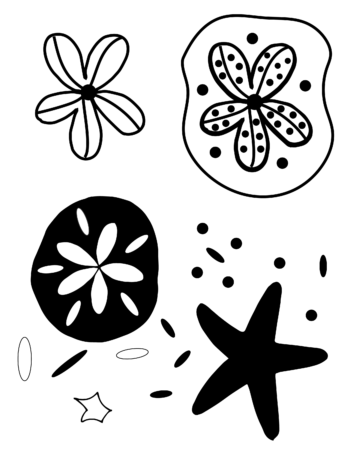 And lots of play later, here are the fabrics! There are 6 different prints and each in 3 or 4 different colors.
The Sea Cookies name
You may be wondering where the name Sea Cookies came from. The main motifs in my line are from the Sand Dollar. This shell also has other names like sea biscuits, sand cakes and … sea cookies! It also is sometimes referred to as a flower due to the petal shapes in the shell. That is why some of my prints look like flowers!
I named each of the different patterns…
Sand dots… this one makes a great background in a quilt!
Sea Stars… like a nighttime sky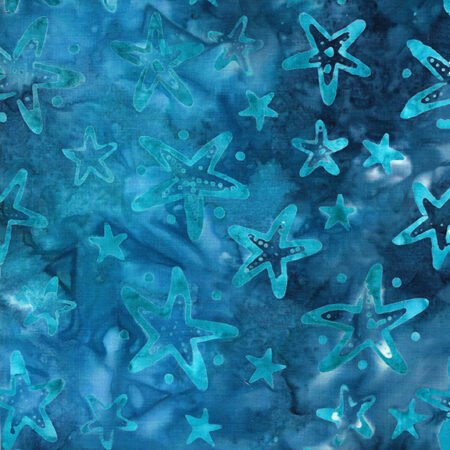 Sea Cookies…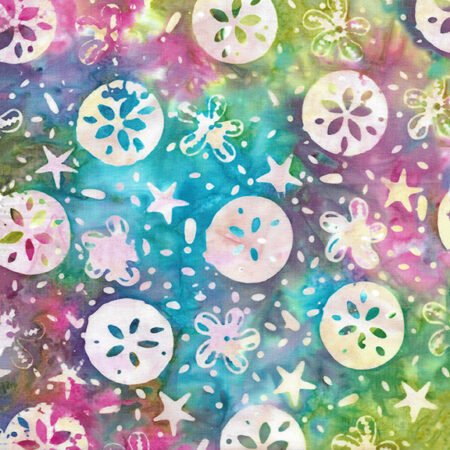 Sand Petals …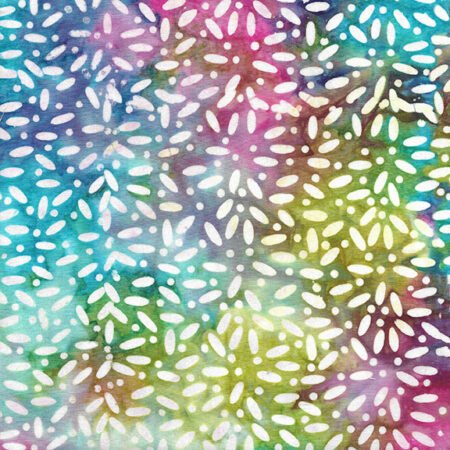 Sea Cookie dots …
Sea Flowers …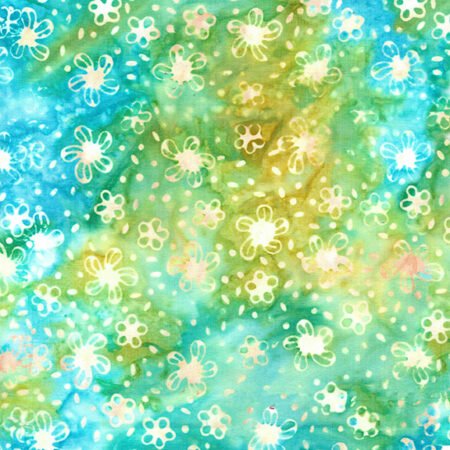 Aren't they fun???
The Projects
Dawn
Dawn is a flying geese quilt; I just love making FG units! In just one size, with a bonus leftover quilt option, this stunning quilt shines using some of the pinks and some of the blues in the line.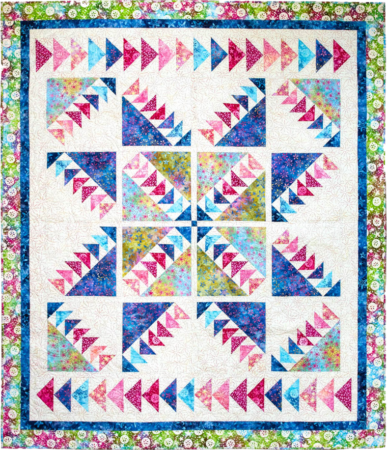 Don't worry- this quilt is easier to make than it looks!
Dusk
Dusk is a medallion style quilt. I used more of the blues in the line to create this gorgeous version.
This pattern has 3 sizes- a square medallion, a lap quilt made by adding top and bottom borders to the square quilt and a bed size quilt.
Sail Away
Sail Away is a pattern I designed a few years ago to use a panel from another fabric line. The panel quilt is a twin size but the pattern also had a lap quilt and a crib quilt. And there were sailboats! Of course I had to recolor the quilts using my Sea Cookies line! It was meant to be!
The lap quilt has lots of sailboats that are pretty easy to make.
And yes, there is one boat going backwards! It's always fun to a little pop of surprise in a quilt. And how great is it that we got to take pictures of the quilts by the sea when we were on vacation in MA and RI? Just the perfect setting.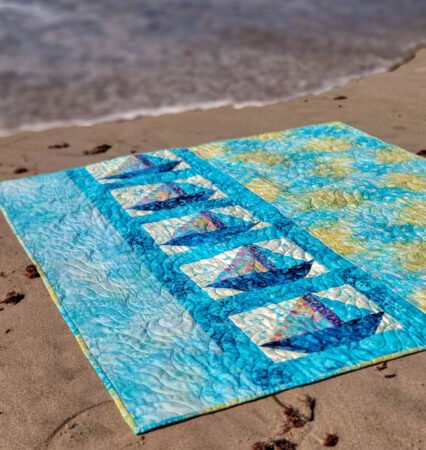 The crib quilt uses big pieces of fabric to really show off the fun sea faring motifs!
Tote That!
I also made a tote bag using my pattern Tote That! I was able to use it to carry the quilts around while we looked for the perfect picture spots and then I also was able to get a shot of the bag by the sea.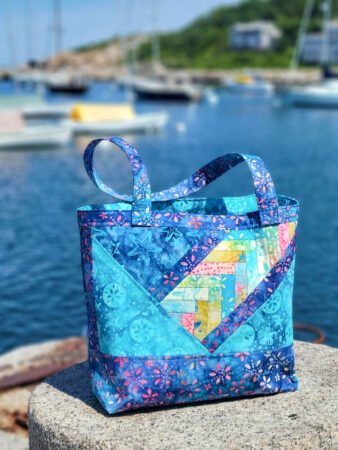 And I even have a new strip pack quilt pattern coming soon. This is the quilt and it will be one of my postcard quilt patterns! I just couldn't resist making another quilt with the fabrics.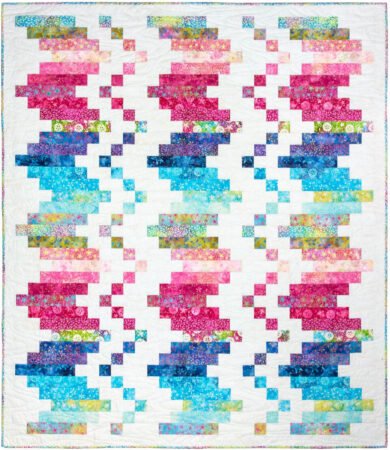 FQ Bundle Giveaway!!!!
Giveaway is closed! Thanks to all who entered!
So would you like an opportunity to play with the fabrics? I have a FQ bundle of all 20 fabrics for one lucky winner and 2 smaller bundles of 8 FQ each for 2 other winners! Yay!
To be entered for a chance to win, leave a comment on THIS blog post. You can tell me which project is your favorite or what you would do with the FQ bundle of fabrics! Contest is open to US residents only (sorry- shipping is so much these days) and entries will close on Sunday May 7th at 9pm.
happy quilting!
Kate
p.s. IG Hop
Want to see some other fun projects using Sea Cookies? There is an IG hop going on where 8 other designers are sharing what they made with Sea Cookies. If you are on IG, pop on over to see!
And my friend Lisa blogged about her quilt project; you can go read about it here on her blog!
p.p.s. Quilt Cruise with Stitchin Heaven!
I'm going  cruising! I am so excited that I get to teach on a quilt cruise! And guess what? It is an Island Batik cruise and my quilt uses my next line of IB fabric!
Shh…. but don't tell anyone… it's a secret! Click here for more information on the cruise. Be sure to tell them I sent you!