Hi Friends! Did you know March is National Quilting Month?
And today is National Quilting Day! How fun.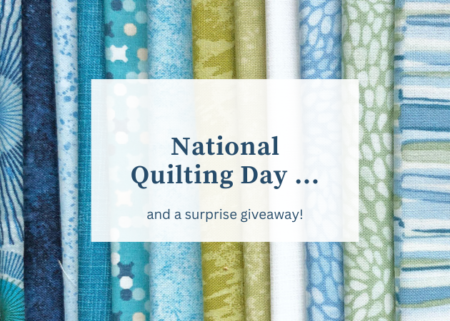 National Quilting Day
How will you spend today? Are you quilting? Shopping for fabric at the many sales today at the local quilt shops?
I am planning to work on a quilt later today. But first, my Saturday chores and other plans are calling me.  I have to go to Pilates and get this body moving and then go buy blinds for my bedroom. And maybe do a little laundry and cleaning.
Then again…..I might skip the laundry and cleaning until tomorrow (cue Scarlett O'Hara!)
Maybe I will go fabric shopping instead!
Surprise Fabric Giveaway!
In honor of National Quilting Day (and month), I have decided to do a surprise fabric giveaway! WOOT!
I have 2 FQ bundles to giveaway- because, if you know me, you know I love FAT QUARTERS! They are my fabric addiction.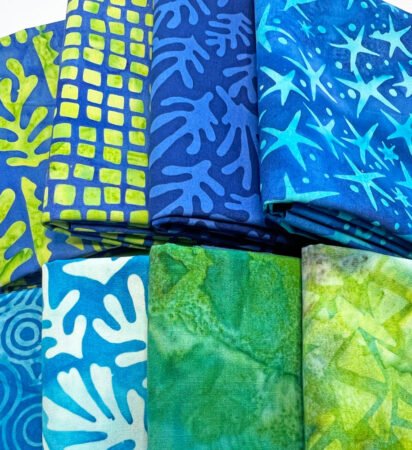 To be entered for a chance to win one of these bundles, leave me a comment on this post telling me your favorite color!
Why your favorite color? Today's prompt on Instagram,  as part of the ongoing #igquiltfest, is "favorite color".
I posted that while I love many colors, my favorite color is blue. And by blue I mean all shades of blue! Though aqua is probably my most favorite.
Reminds of my favorite place to be- the beach!
The giveaway is open until midnight MT, Monday March 20th. The giveaway is open to US residents only- sorry but international shipping is SO much right now!
And yes… a couple of these are from my Luna Mystery quilt! The QAL started this week and I am so excited by everyone who is participating!
Have a lovely national quilting weekend everyone!
happy quilting!
Kate