Hi friends!
I am so glad you all liked the quilt, Snow Day, that I made for the Island Batik blog hop. I had a lot of fun making it.
If you haven't had a chance to comment on the post to enter the giveaway- click here.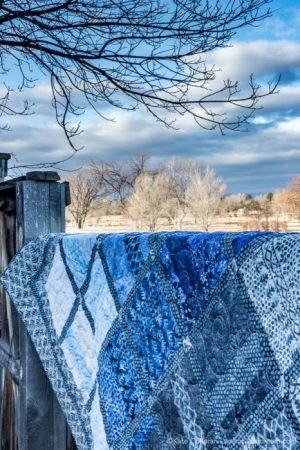 I am binding the next quilt and will be posting next Monday Jan 22nd about my second Island Batik quilt for January. There will be a second giveaway AND a free pattern that day so be sure to come back for that.
In the meantime, my 3 courses on The Quilting Company website have gone live! I am so excited to share these courses with you.
I use affiliate links. At no additional cost to you, when you make a purchase I may get a small commission. Your support is very appreciated. Thank you!
The first course is called Log Cabin Blocks for Beginners.
This course is perfect if you've never made a log cabin quilt or want tips on making a log cabin quilt. I talk about how to get a great ¼" seam, pressing basics and construction options.
The second course is called Log Cabin Block Variations. In this course I show you lots of different block options!
And in course # 3, we go modern with Log Cabin Quilt with a Modern Twist! I love the modern baby quilt that I made for this course! And in each course, in addition to the videos, you get lots of handouts.
If these courses appeal to you, great!
If you are already log cabin savvy, then later this month, I hope to have a free heart log cabin pattern for you. It is not a beginner pattern, but it will be fun to make!
See you next week-
happy quilting!
Kate
SaveSave
SaveSave