Hi friends!
The four seasons. For those of us who live in a climate where each season is so very distinct, there is something to love in each one.
For winter, many dislike the cold, wet and damp. Or the shorter days. Or the many layers of clothes needed to brave the elements. Or, maybe, all of that.
But truly when the weather is cold and damp, there is something about staying inside, warm and toasty, wrapped in a favorite quilt with a good book and a hot drink… at least that is my idea of a wonderful winter day. Add in a fire in the fireplace, a cat snuggled on my lap and a dog curled up at my feet and well. I am in winter heaven!
And I know- some of you are probably dealing with the incredible snow and cold this year, so while a little cozy time inside is nice, enough already!
Others love to be out in the cold- skiing, or sledding or skating. There are so many fun winter activities to do outside. Just be sure to bundle up.
For the Island Batik Four Seasons blog hop, I had chance to use the new Winter line Alpine Ice.
Very appropriate for the winter season don't you think? I had this wonderful layer cake quilt and 2 bits of yardage- a light and a dark. When I saw the fabrics, I knew what I wanted to do. A simple pieced quilt that spoke to that snow day- when the day starts cold and grey with the white snow falling. As the day progresses and the clouds move on, the sky become a brilliant blue and the reflection of the sun off the snow is almost blinding.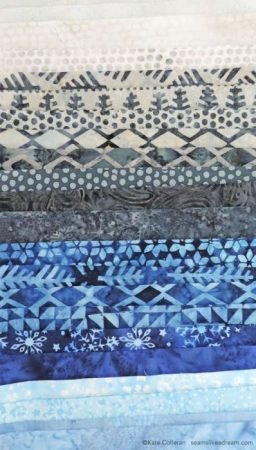 I wanted to do something fun and fast and this new pattern of mine is just perfect for that. (Pattern is not ready for publishing yet but soon!)
For this layer cake quilt, you cut your layer cake pieces into strips and then make your blocks. A little sashing, some corner stones, a few borders and ta-done! A beautiful quilt in no time.
I decided for this version to make the blocks a bit monochromatic to really get the effect of a gradation of color across the snowy day.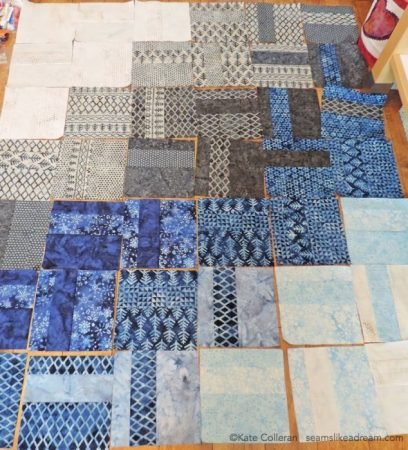 My good friend Crystal did her long arm magic on the quilt and used some fun thread and a beautiful snowflake design called Snow Crystals to quilt it.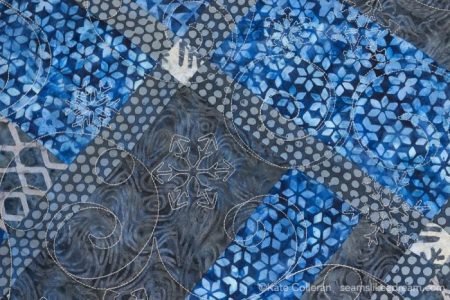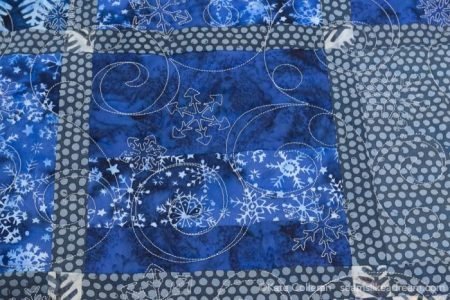 We used  Tula Pink FreeFall in grey for the back and Fantastico thread to add a little bling. Just a little.
I love how the layer cake quilt came out!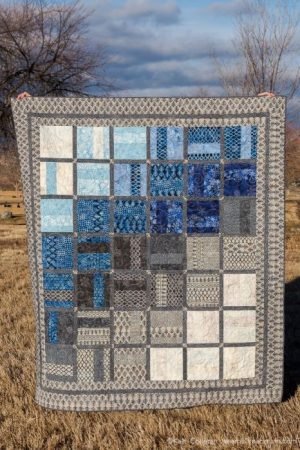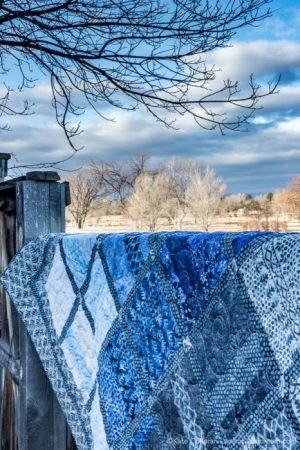 The pictures would have been great in the snow but I won't complain that we don't have enough snow- I know there are too many places with too much!
WINTER
January 8 – Blue Moon
Inquiring Quilter • Cheryl Lynch Quilts
January 9 – Mountain's Majesty
FunThreads Designs • Little Bunny Quilts • Quilting Affection Designs
January 10 – Alpine Ice
Freemotion by the River • Slice of Pi Quilts
Seams Like a Dream • KISSed Quilts
January 11 – Alpine Jingle
Purrfect Spots Designs • Bejeweled Quilts
SPRING
January 15 – Elementz
Den syende himmel • Inspired Layers
January 16 – Southern Blooms
Yellow Cat Quilt Designs • Quiltologist Treasures
January 17 – Morning Sunshine
Quilt'n Party • Desert Bloom Quilting
January 18 – Season's Shades
Inchworm Fabrics • Kauffman Designs
SUMMER
January 22 – Paisley Dot
Pamela Quilts • Seams Like a Dream
January 23 – Sunflower Serenade
Kathys Kwilts and More • Whispers of Yore
January 24 – City Culture 2
Mary Mack Made Mine • heARTs Creations
January 25 – City Culture 2
The Quilt Rambler • Lizard Creek Quilts • KISSed Quilts
FALL
January 29 – Autumn's Grace
Seams to be Sew • KISSed Quilts • Ark Angel Creations • Beaquilter
January 30 – Pumpkin Patch
KISSed Quilts • Beaquilter
January 31 – Plum Delicious
Masterpiece Quilting • Adventurous Appliqué and Quilting
February 1 – Northern Woods
Moosestash Quilting • Vicki's Crafts and Quilting
SaveSave
SaveSave
SaveSave