Hi friends!
Today is my second day on the Island Batik Four Seasons quilt pattern blog hop.
If you missed the first post, click here to read and enter that giveaway.
For my second quilt this month, I thought about what I wanted to share. And what I wanted to share is a quick Four Seasons quilt pattern you could make using scraps; hopefully using some beautiful Island Batik scraps!
For many of us, time is precious. It is hard to get a quilt top done, no less get it quilted and ready to use or to give away. Now that I have this puppy, (isn't she adorable?) I have found I must be flexible about time. It is like having a new baby or a toddler. If I stress that I did not get the all the laundry done or a quilt top completed today, I miss out on that time with the puppy.
If I stress about what is not getting done, I will miss being in the moment and the fun a new puppy can bring.
So while I have deadlines that must be met, I am learning to slow down and just enjoy playing fetch with the pup!
So this quilt is for the times when you need to make something but you need quick and easy. And quick and easy does not have to mean blah. It still can be beautiful!
I started with bits of Island Batik's new line, Paisley Dot. I cut the fabric into 40 pieces 4 ½" x 22″. Basically a Fat Sixteenth. Hmmm, is there really such a thing? Well there is now!
From each Fat 16th, I cut 5 squares 4″ x 4″. Then I laid them out in a pleasing design. I had a few leftover squares.
This quilt reminds me of one I did earlier in the year with some other IB fabrics. 
And while the blog posts this week are about summer fabric lines, I realized this quilt is about all four seasons. Winter is up in the left hand corner, the dark and stormy skies.
Then the colors move into the soft, pastel shades of spring when the first pale green leaves start to pop and the early flowers poke their heads up out of the ground.
Then is is onto summer- the bright vibrant colors of the leaves, the flowers, the blue sky and the bright blues of warm water. And then it is fall, when the leaves start to lose their luster, become a muted shade a green as they turn into their last gasp of rich autumn colors and fall to the ground. A time to gather up those close to us and get ready to hunker down for the coming winter.
Can a quilt really say all of that? Why not? A quilt is a way to express what we feel; how we feel about the fabric or a time in our life or even how we feel about the intended recipient.
And this quilt is one where you can make the quilt your way- balance the colors of the fabrics you are using in a way that makes you happy.
Once I had the blocks all sewn together, I added borders, piecing them so the dark border was surrounding the darker squares and the lighter border by the lighter squares.
Once the quilt was quilted, I cut the binding to match the border.
Click here to get the free pattern.    Free pattern offer is over. Sorry!
And how about the quilting? I had this quilted by my uber talented long arm quilter friend, Crystal Zagnoli. She always makes what I do look so much better!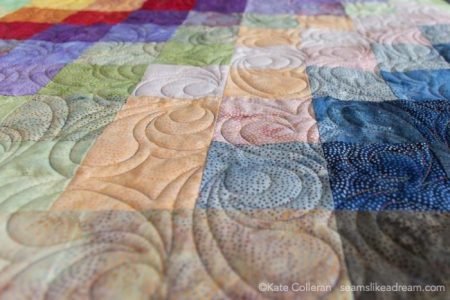 And I love this variegated thread she used- while you might worry that the bright colors in the thread would not look good in all areas of the quilt, I think it is brilliant!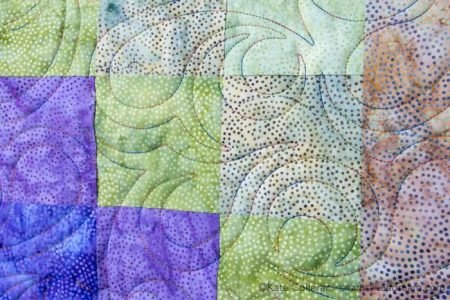 If you want to visit all the blogs in the Four Seasons Quilt pattern blog hop, the complete schedule is below.
happy quilting!
Kate
WINTER
January 8 – Blue Moon
Inquiring Quilter • Cheryl Lynch Quilts
January 9 – Mountain's Majesty
FunThreads Designs • Little Bunny Quilts • Quilting Affection Designs
January 10 – Alpine Ice
Freemotion by the River • Slice of Pi Quilts
Seams Like a Dream • KISSed Quilts
January 11 – Alpine Jingle
Purrfect Spots Designs • Bejeweled Quilts
SPRING
January 15 – Elementz
Den syende himmel • Inspired Layers
January 16 – Southern Blooms
Yellow Cat Quilt Designs • Quiltologist Treasures
January 17 – Morning Sunshine
Quilt'n Party • Desert Bloom Quilting
January 18 – Season's Shades
Inchworm Fabrics • Kauffman Designs
SUMMER
January 22 – Paisley Dot
Pamela Quilts • Seams Like a Dream
January 23 – Sunflower Serenade
Kathys Kwilts and More • Whispers of Yore
January 24 – City Culture 2
Mary Mack Made Mine • heARTs Creations
January 25 – City Culture 2
The Quilt Rambler • Lizard Creek Quilts • KISSed Quilts
FALL
January 29 – Autumn's Grace
Seams to be Sew • KISSed Quilts • Ark Angel Creations • Beaquilter
January 30 – Pumpkin Patch
KISSed Quilts • Beaquilter
January 31 – Plum Delicious
Masterpiece Quilting • Adventurous Appliqué and Quilting
February 1 – Northern Woods
Moosestash Quilting • Vicki's Crafts and Quilting
I am going to be an instructor at AQS Quilt Week in Lancaster PA this March! Click here to see my classes and sign up!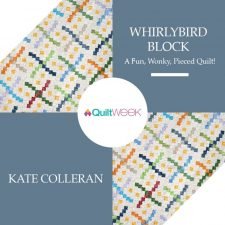 SaveSave
SaveSave
SaveSave
SaveSave
SaveSave