Hi friends!
This is our last post in the Lighthouse Steps Quilt Along!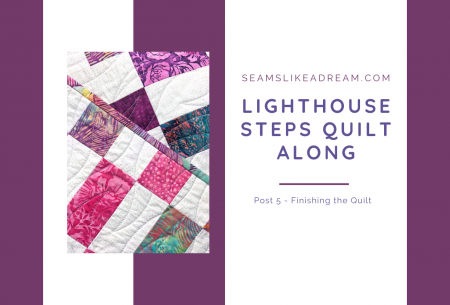 And if you make it all the way to the end, I have a super giveaway for you!
Note: If you missed any of the quilt along posts, here are the links to the introduction, post 1, post 2, post 3 and post 4. There are also a lot of great comments in posts 3 and 4 with tips on piecing and achieving a great ¼" seam!
I hope you have been having fun following along and making your quilt top. Tell me, how did the top come out?
A little bit of true confession here- I sewed a few of my rows together in the wrong order! Yup.  I really did.
After all my talk… make sure you look at your pictures so you sew the rows together in the right order…. I sewed them wrong. 
So Jack (the ripper) and I had some quality time together! But the quilt top is fixed and all done!
In this final post, I am planning to talk a little about borders, quilting and binding.
Borders
The lap quilt does not have borders but the queen quilt does. However, if you wanted to make your lap a little bit larger, you could always add borders!
First I had to decide on the outer border fabric; I auditioned a few options but in the end chose this print.
My one big tip for borders is to measure before you cut. In all my patterns, I teel you the size to cut your borders. That size is based on math; if all your seams are exactly the right size, your quilt top should end up this size so cut your borders to that size.
However in the real world, it does not always work that way! Maybe all your rows lined up because all your seams are exactly the same size but your top is not quite the size indicated in the pattern. that just means you were consistent with your seam size but not quite a ¼". That happens.
The best way to measure your quilt top for the right border size is to lay your quilt out on a smooth surface. I usually lay mine out on the rug in the bedroom.
Then, for your side borders, measure through the center of the quilt from top to bottom – not along the sides! The side edges can be a little wavy or uneven.
I use a long acrylic ruler and pins to get an accurate measurement.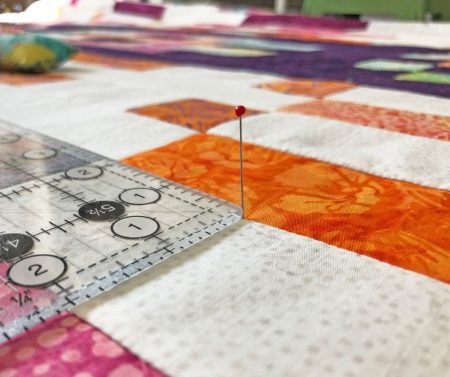 Then cut both side borders to that measurement. Pin the border to the quilt matching the center, the ends, and then in between along the entire border. As you sew, ease to fit as needed.
For the top and bottom borders, once the side borders are on and pressed, measure through the center of the quilt, this time from side to side. Cut your borders to that measurement.
Some people cut their borders longer than the sides, add to the sides and then just cut the excess off. It is hard to square up your quilt this way and you run the risk of a wavy quilt! For more tips, go to this blog post from the Exploring the Basics series.
Quilting your Quilt Along quilt
Are you planning to quilt the quilt yourself? I sent my quilt to my favorite longarm quilter, Crystal Zagnoli, who will do her magic and make my quilt beautiful!
There are so many ways you can quilt your quilt. I chose a wavy all over design for my lap quilt but you could plan to just do some straight line quilting to emphasize the strong lines in the design.
If you are bringing your quilt to a long arm quilter, be sure to check with them how big your back should be. The pattern assumes you need a back 4″ bigger than the quilt top on each side so overall it is 8″ bigger. 
I actually made my back out of 3 different fabrics as I didn't have enough of any one fabric. I like pieced backs. And I had a helper sewing the sections together.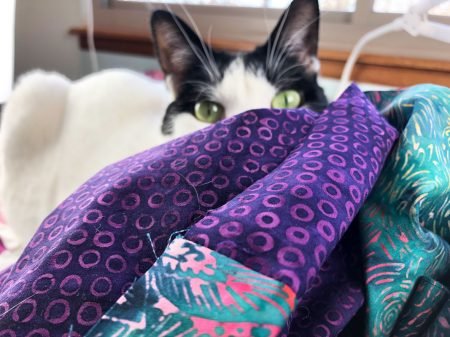 Binding
Do you have a favorite size for your binding? Binding is typically 2 ¼" or 2 ½" wide. But some quilters like a skinny binding and cut theirs at 2″ and others like it even wider than 2 ½" .
I like 2 ¼" strips so that is what the pattern tells you to cut. You can always cut a different size!
Last year, as part of out Exploring the Basics blog series, Tammy and I had a post about binding and listed our top tips. If you want tips to bind your quilt, click here.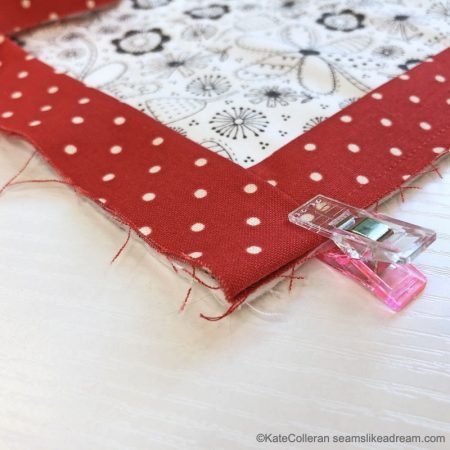 Or click here to go to my YouTube channel and watch my video on my 5 Tips for Better Binding. I had taped it as part of a Facebook Lives series and then edited it and put it up on YouTube.
Not only do you have to decide on a size for your binding, but you need to pick a fabric. Sometimes I want the binding to contrast and stand out; other times I want it to blend into the outer border.
I used one of the prints in the line for the border of my lap quilt. Actually it is the same print I used for the outer border of my queen quilt! Guess I really like that one!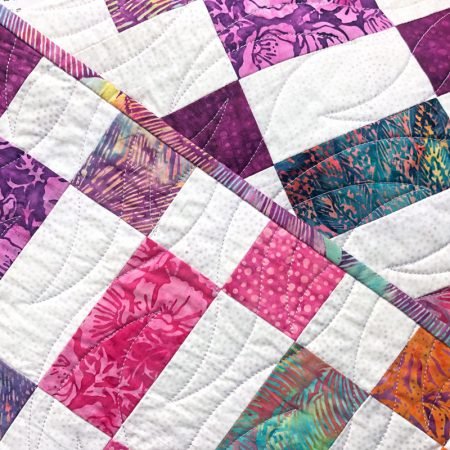 For my queen quilt, my plan is use the contrast fabric as the binding to provide a frame around the outside edges of the quilt. But I will will decide for sure once the quilt is back from the long arm quilter. I have been known to change my mind once I see it quilted!
And that's a wrap! I hope you enjoyed making Lighthouse Steps and please feel free to share a picture of your quilt with me! I would love to see!
Last Quilt Along Giveaway!!
For our final giveaway, I have three awesome prizes for you!
Prize #1 is a queen size batting from The Warm Company. One of my favorite battings is called Warm 100- I just love the feel of the quilt once it is quilted.
Prizes # 2 and #3 are FQ bundles of the Painted Blossom batik line! I love this line and I think you will have fun with these fabrics.
To be entered for a chance to win one of these bundles, leave a comment on this post. You all have had such great tips for each other in the previous 2 posts- maybe tell us your favorite tip for borders or binding?
Giveaway is open to US residents and will close Monday April 12th at 9pm MT.
Thank you to everyone who has been following along! This has been so much fun!
happy quilting!
Kate
Upcoming Classes
Vermont Quilt Festival
The registration for the Vermont Quilt Festival is open! And the festival is virtual this year so you don't have to be local, or hop on a plane, to attend!
The festival runs June 17-27th.
I am teaching 2 classes at the VQF- my popular Pack it Up! bag.
And my fun easy table runner, Table Scraps.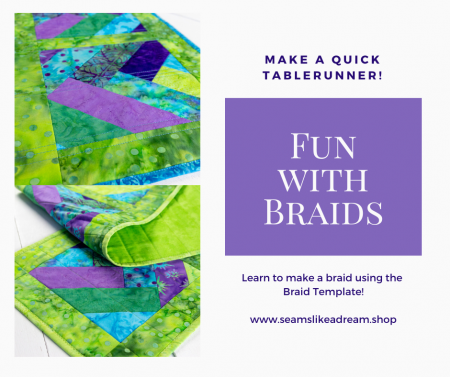 And I am presenting a lecture called How to Smash Your Stash!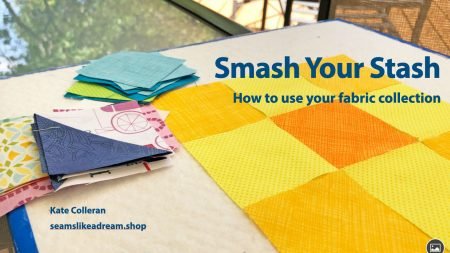 Click here to go to the VQF website and check out the classes and registration.
Picturesque
Let's plant a garden!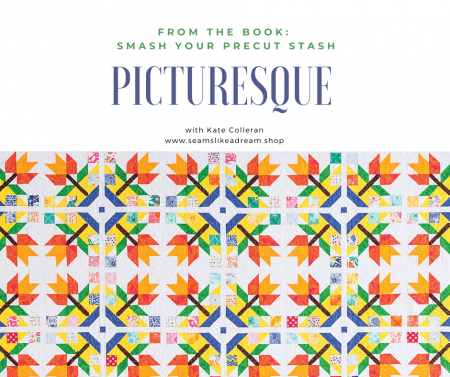 I am teaching a virtual class through my quilt guild but you don't have to be a member of the guild to participate! We will be making the quilt, Picturesque from my book, Smash Your Precut Stash.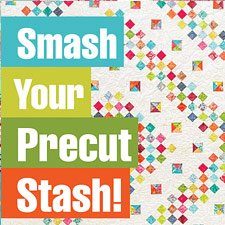 Instead of one 6 hour class, we broke it up into 4 sessions of 1 ½ hours. That way you have time to pick fabrics, sew and not be stressed trying to keep up!
Click here to go the guild's website and learn more. I would love to see you in class! Class starts April