Hi friends! How are you?
This week/weekend I will be at the Denver Quilt, Craft and Sewing Festival. I will be hanging out in the Innova booth with my friend Crystal of The Quilted Cricket. I am excited to see everyone who stops by- so if you are in the area, come visit with us! I will have books, a few patterns and other fun stuff.
The really big news this week is my new pattern, Table Scraps is ready! I will debut it at the show this weekend but in the meantime, you get a sneak peak!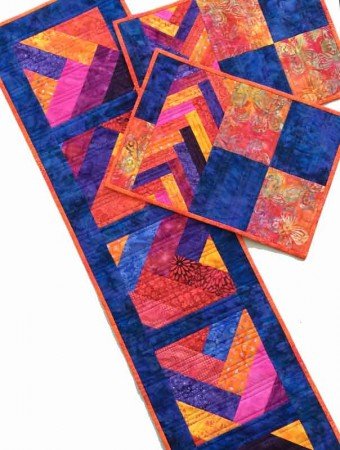 This pattern is so much fun to make. I made mine using all my leftover batiks scraps for the braid blocks. I used my Braid Template ( of course I did! It made it so easy to cut the pieces) but I do include templates in the pattern that you can trace onto template plastic.
Of course, you don't have to do as much quilting as I did- I was just having fun! I am planning to use strips from a Downtown Abbey jelly roll next for a nice, monochromatic version.
I would love to hear what colors you would make your Table Scraps runner and placemat in. Please leave me comment and let me know!
How about this? Let's do a spontaneous sale! I am at the show all weekend and then I leave to go to FL for 2 days (Don't you love frequent flyer miles???!!!). I am going to celebrate my birthday with my son and his girlfriend. And I get to meet the "grand puppy", Benson!
So, any Table Scraps pattern ordered from now thru my birthday, if you enter the coupon code Katesbday and you will get $1 off! And the coupon code will work on the Braid Template too so you can get each of them on sale!
Sale ends at midnight April 4th (midnight MT). (Patterns ordered after this Friday will ship next Wed).
happy quilting,
Kate