Hi friends!
Whatcha up to?
Yesterday, here in Colorado, was a great day to stay inside and quilt! We were expecting some snow, but we did not expect what we got. A blizzard! On our deck we ended up with over 20″ of snow. (Hubby thinks it was closer to 24″ but we don't want to exaggerate so we will be conservative and say 20″.)
This morning I decided to take a walk in the pretty Winter Spring Wonderland. So I put on my flannel jeans (so warm!), thick socks and my boots, winter coat, hat, scarf…. and went out into the sunshine. It is supposed to warm up today to maybe the 50s, but it is not there yet.
It was so pretty outside with the trees still full of snow puffs and the sun shining off the snow making it look like it was dusted in glitter. The sky was a beautiful bright blue.
Some trees look so great with the snow clinging to the bits of new green growth…
Some trees will not survive…. so sad.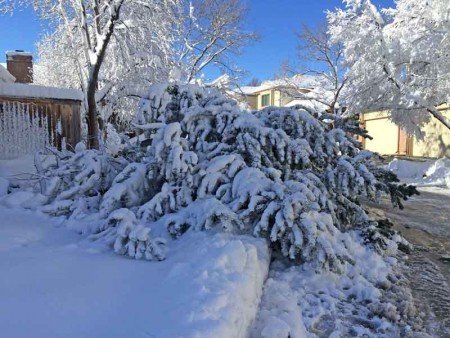 The streets and roads are still pretty icy so walking was a little tricky but it felt good to get out! That and I had to watch out for falling snow. As the sun starts melting the snow, the trees dump their little travalanches (get it? Tree-Avalanche!).
The post boxes have little snow muffin tops.
Yesterday I managed to work on the directions for a few new patterns and get some sewing in. I started a new Down the Garden Path quilt (from my Smash Your Precut Stash book). I cut braid pieces, pieced my braid sections and almost have the center of the quilt pieced together.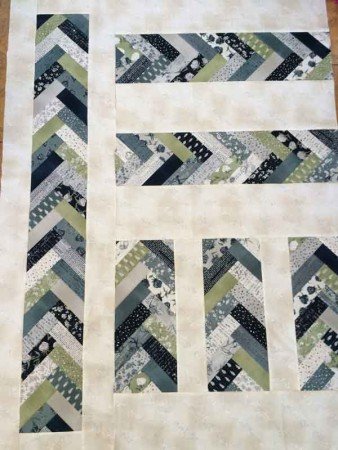 I am loving this! I am using fabrics from 2 Janet Clare lines from Moda. I see more piecing in my day today. Can't wait to see this all done!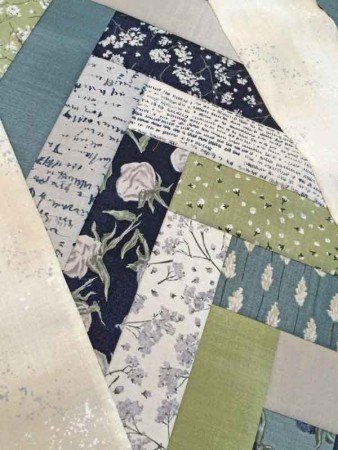 There will not be a newsletter this week. For those who celebrate, it is Easter weekend so I will take a break.
happy quilting,
Kate
p.s. In case you missed it in the newsletter, we now have some patterns available as PDFs. Just a few but it is a start! To celebrate, from now until April 3rd, all PDFs are $2 off with the coupon code PDF2.