Hi friends,
I thought I would give an update on my 100 day challenge and the nine patch quilt blocks. If you missed the first post about it, click here.
100 Day Challenge- the Nine Patch Quilt Blocks
Today is day 90 of my 100 day challenge and I have to say, I am pretty proud of myself. I challenged myself to make a nine patch block out of scrap fabric everyday and I have one for each of the 90 days!
I posted almost everyday (one day the post didn't happen even though the block got made!)
The Process
First, yes, I did make some blocks ahead. I traveled a bit during these 90 days and so I did make some blocks ahead so I could still post every day! 
I started the process by spending some time in my 2 ½" square bin, finding fabrics and playing with combinations.
Then once I had enough nine patch blocks of the the first group for a quilt, I started in on some squares from my first Island Batik Signature line, Tiki Punch!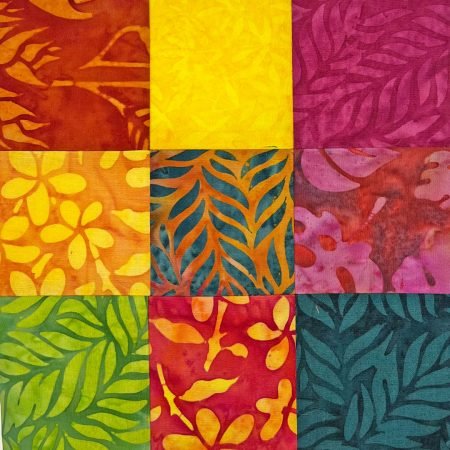 I even used some leftover HST units in these nine patch blocks.
What I liked about my Nine Patch Quilt Block Challenge
I liked that the challenge got me in the sewing room everyday- even if it was just for a few minutes to make a block. Being a designer, I can spend waay too much time at the computer and while, it is usually necessary, sometimes I need to mix it up!
Taking the computer work in smaller chunks and spending a little time sewing every day makes me more relaxed. I like that.
What's next?
Next up, well, I do have to finish out the 100 days and then decide if I have enough of the Tiki Punch blocks for a quilt. So I may need to make a few more.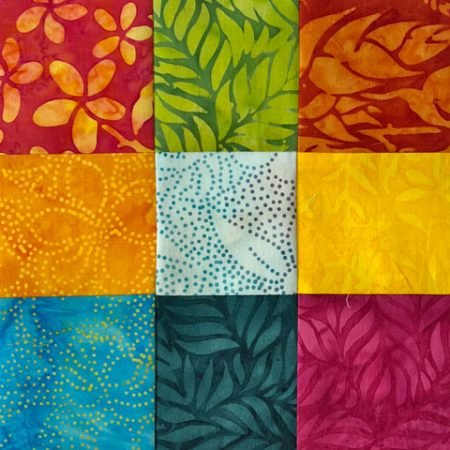 But, I am not sure if I will start another 100 day challenge right away. I was also supposed to be drawing everyday as well and that did not happen. So maybe I will focus on some drawing, sew all those nine patch quilt blocks into the quilts and then… who knows?
happy quilting!
Kate
P.S. Next week I am introducing Contempo, my 4th Signature line with Island Batik! I can'w wait to share it with you and I will have 2 FQ bundles to giveaway! Woot Woot! See you then!