Hi friends!
As promised, for our Adventures in Quilting post, my good friend and awesome quilter Tammy Silvers and I are going to blog about gift ideas for the holidays.
What? It is only August!! Why are we talking about the holidays?
Well, I know some people who start their holiday shopping right after Christmas. Impressive!
Others start over the summer and some, like me, are last minute kind of people. But when you want to make someone a special, handmade gift then you need to start a little early. How can I help? How about a sale? I was going to select certain patterns and items to put on sale but decided to just put the entire shop on sale. I don't plan any more sales for a while so now is the time to take advantage.
See the end of the post for the code to use to get the discount!
So, who is on your list that you want to make a little something for? Just because we are quilters, doesn't mean your gift has to be a quilt! Here are some suggestions.
How about a table runner or a pair of placemats?
This runner/placemat combo was made using a wonderful line of batiks by Jackie Kunkel for Island Batik. I made them back in the spring for a blog hop and now they will be my gift to me for the winter!
The pattern, Table Scraps, makes a quick and easy runner using 2 ½" strips and you could use fabric to match someone's decor, holiday fabric or something for their favorite season.
Maybe a more personal item? My Kozy Q scarf pattern is fun, easy and so very fast to make! A great gift for a friend. Even if you need to make it last minute!
You can use regular quilting cotton, but voile, rayon or even double gauze make beautiful scarves! Or make one side using cuddle or flannel for a really soft and cozy scarf!
Maybe you want to make them something to use to decorate for the holidays? How about Tannebaum Trio? You can make them a nifty Christmas Card wall hanging.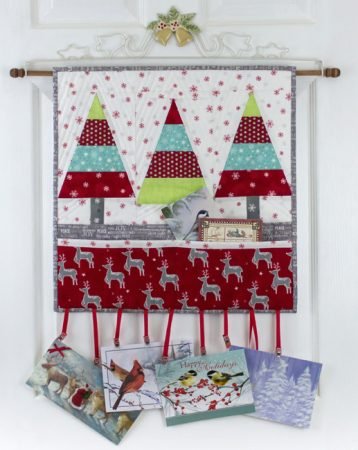 Or the runner or a set of placemats.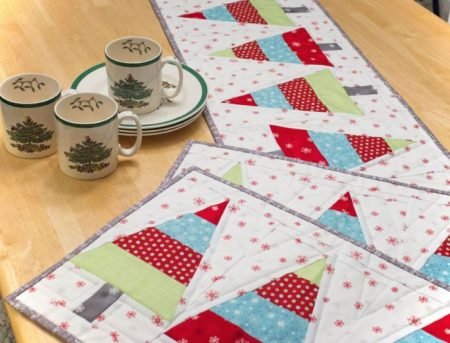 OR I have 2 kits using my pattern Holiday Treats. One is for the runner and one is for 2 placemats.
The pattern was developed for use with the fabric line by Northcott called Sugar and Spice. Isn't it cute?
And what about for the younger crowd? Maybe a notebook cover?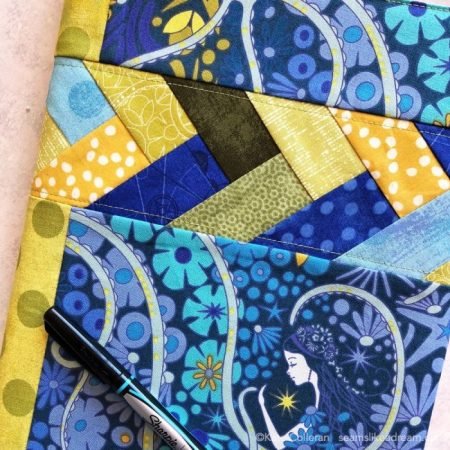 Or maybe a headband in their favorite colors?
And for your quilting friends, great quilting tools and goodies are always appreciated.
I was looking thru my pile of bags and found this fun red, white and blue version of my Pack it Up! bag. So how about a sale and a giveaway?
The giveaway will be for the bag and some goodies inside. You can use the bag and goodies for a friend or keep as a gift for yourself!
Leave a comment and you will be entered for a chance to win the bag. Entries will close Tuesday Sept 4th, 2018 at 9pm (MT).
Giveaway is closed! Good luck!
Sale will be on all items in the shop at 20% off. Use the code holiday20. Sale will go thru the end of the day Sept 4th, 2018.
Click here to go to Tammy's post to see what she is blogging about.
Good luck with your holiday planning and stitching!
happy quilting,
Kate