Hi friends!
Welcome to the start of the Adventure Quilt … a Road Trip quilt Quilt Along.
It's here! Block 1-Home- is here!
We are so excited to get started on this journey with you.
Our first block is the Log Cabin. We started with a log cabin block because it's a fun, easy to piece block! And, in our quilt, it represents home.
Home is where any good adventure starts. Early adventurers would leave home, explore new areas, and then set down roots and create a new home. Whether their home was a log cabin, an adobe hut, or a home made of bricks and stone, people have been looking to both explore this world and set down roots.
So let's set down the roots of our quilt.
We will be making 2 different Log Cabin blocks- one we call North and one we call Southwest.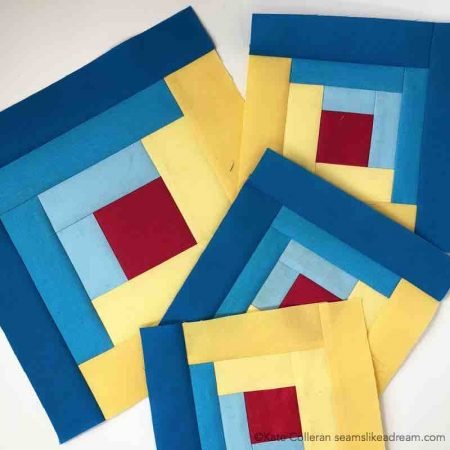 And we will be making each of the blocks in 2 sizes.
When making a Log Cabin block, there is not much you have to do to be successful; first thing you need to do is keep the strips organized! Since there are 2 different blocks, each in 2 sizes, you may want to separate the strips into piles as you cut them – one for each size and type of block.
The cutting will probably take longer than the sewing, though it may have taken me longer than normal since I had help!
The next thing to do to be successful, is to be sure to add the logs in the same rotation.
The logs are added going one way for the Southwest blocks, and in the opposite direction for the North blocks.
Let me show you the rotation of the North blocks.
For the North blocks, every time you are ready to add a new log, the log you just added should be at the top. In the image below, I had just added a Dark Gold log, so I turned my block so the Dark Gold log is at the top of the block. Then I was ready to add my next log, a Blue log, to the right side of the block.
After adding the first Blue log, I turned my block so the Blue log was at the top and now I am ready to add the next Blue log to the right side of the block. Easy peasy!
The Southwest blocks are added in the opposite direction. And don't worry if this seems a little confusing, the pattern has great diagrams for you to follow!
The other thing that you need to do to be successful with a Log Cabin block is have an accurate ¼" seam.
Today's Tip
Today's tip is my method on how I check to make sure my ¼" seam is accurate. First I start with Celine Perkins Perfect Piecing Seam Guide and set it up on my sewing machine with the needle thru the small hole in the guide. The Seam Guide marks a scant ¼".
Then I place a small piece of the Sewing Edge from C&T Publishing along the seam guide and adhere it to my sewing machine. I cut a piece of the Sewing Edge to fit on top of my bobbin cover.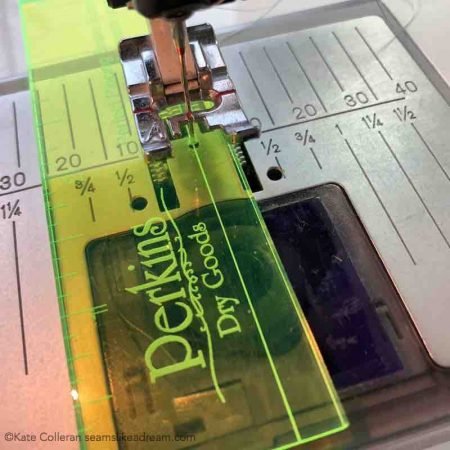 Next I take 3 pieces of fabric cut 1 ½" wide and sew them together. I press away from the middle strip and then check the size of the middle strip.
If the strip in the middle is too big, my seam allowance is too small and I need to adjust the placement of the Sewing Edge. If the strip in the middle is too small, then my seam allowance is too big.
If the strip in the middle is exactly 1", I have my Sewing Edge in the perfect spot. Lucky me!
Once in place, my Sewing Edge will last for a quite a while and it really helps to have something to butt the edge of the fabric up against. You could use Post It notes or tape, but I have found the Sewing Edge lasts longer than either of them and it has a nice small edge that really helps keep your fabric lined up but is not so big as to get in the way.
Giveaway
How would you like to win a Perfect Piecing Seam Guide and a package of the Sewing Edge strips?
Celine Perkins of Perkins Dry Goods and C&T Publishing were very generous to sponsor this post and to offer a giveaway! I will draw 2 names next week and each winner will win a Seam Guide and a package of the Sewing Edge strips! Woo hoo!
To enter, use the Gleam Widget below to enter. Giveaway will close on Tuesday February 5th at 5pm MT.
Block 1
Click here to download a copy of the Block 1 PDF. The block is free to download thru Tuesday February 5th, 2019 at midnight MT. After that, the block will be available for $3.00
Note: you will have to enter a name and address to be able to download the block. The system won't let you get the block without doing that. It is just how it works! We tried to go around it but… to make things easier each week, you could create an account and then you would not have to enter all that information each time!
Also if you don't hit the button that says "Complete Order", you won't get the block!
Tammy's Block
If you want to see Tammy's blocks, click here to go to her blog post today.
Facebook Live
On Saturday, I will be doing a Facebook live about the block. It will be short and sweet. So tune into my Facebook page on Saturday at 1oam MT and check it out!
Maybe Lark will help that day too- she was my photo shoot helper!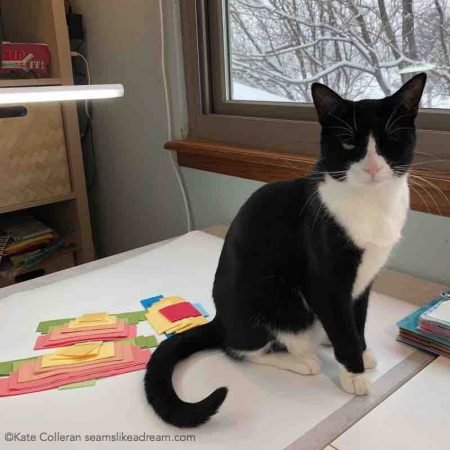 Have fun making Block 1-Home and we will see you next week on Tammy's Blog for our Quilt Along Block 2. Block 2 is called Milemarker and you will need these fabrics:
Background, Light Green, Green and Dark Purple.
See you then!
happy quilting,
Kate
p.s. Tomorrow I will be back with my post on the Turnabout Patchwork book blog hop with a chance to win a copy of her ebook! So be sure to come back then!