Hi friends!
Today I am posting about a wonderful new fabric line called Gloaming. The fabric is by Shelley Cavanna for Benartex.
I met Shelley at Quilt Market last fall and she is just sew nice and we had a lot of fun chatting. So when she asked if I was interested in being part of her blog hop, of course I said yes!
I knew right away which of my patterns I wanted to use. I wanted to make a crib size Boston Bricks quilt.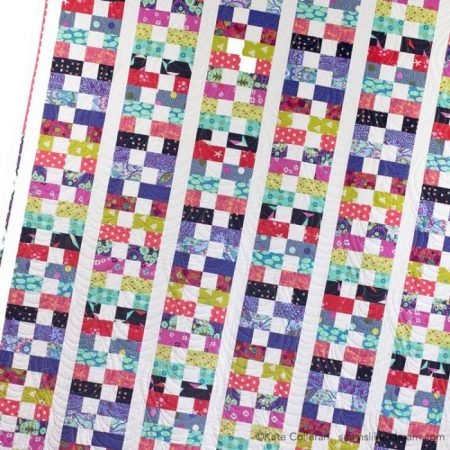 It is a quick quilt to make and is great for showing off prints. I picked 8 fabrics and a white solid.
Here was my stack of Fat Quarters.
And here is the quilt top! I love it!
One of the things I like about my Boston Bricks pattern is you can use a strip from all the prints in the quilt for a scrappy binding. Scrappy bindings add a really great touch to a scrappy quilt.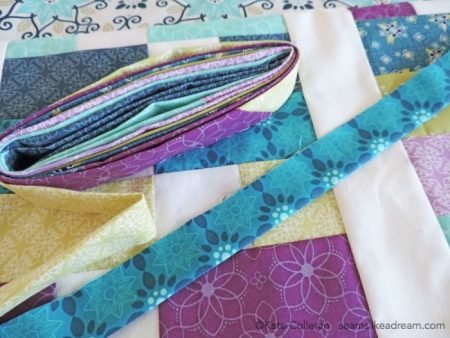 Now, I had wanted to have the quilt top done and all quilted by today but …. well. It's not all done. Here is the thread color I chose for quilting. I love using this bright green; it works in so many quilts.
This shade of green is a little darker than I sometimes use but I think it works with all these gorgeous prints. It just seems to pop without totally taking over. I think I have said this before, but to me, a light green threads works as a nice neutral.
And I have some of the quilting done. What do you think? I like this meandering, wonky line of stitching. I don't have to worry about being a certain distance apart and people noticing if they lines aren't straight- because they aren't! And it is fairly quick to quilt the top this way.
Would you like to win some of this amazing fabric? Benartex is giving away a FQ bundle to one of my readers! So leave a comment on this post and you will be entered for a chance to win the fabric. I will close the comments on Friday night, March 9th at 9pm MST. (Sorry, US addresses only.) Good luck!
Would you like second chance? If you are on Instagram, follow me @seamslikeadreamquilts and leave a second comment here on this post with your instagram name (@___) and you will have 2 chances to win a bundle of this amazing fabric!
Giveaway is closed! Thank you to all who entered!
Here is the whole blog hop:
And you can go to the Benartex blog to see more! Click here.
Gloaming Week Schedule
Monday: Introducing Gloaming – interview with Shelley Cavanna
Friday: Shelley's Virtual Trunk Show
happy quilting,
Kate