A while back I was lucky enough to be able to work with some great fabric designed by my friend Kirstyn Cogan. She designed the line, Urban Scandinavian for P&B Textiles.
I created this table runner and the placemats. The pattern is called Stroll.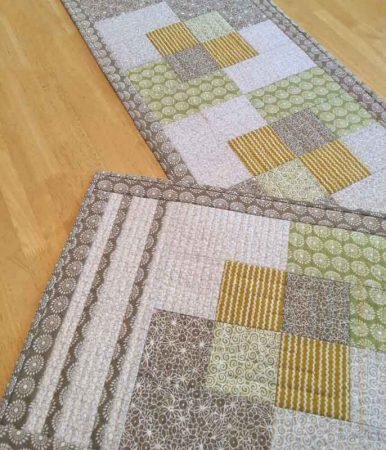 Kirstyn asked me if I wanted to collaborate with her on a giveaway for Earth Day using her fabrics in the greens and blues. Earth Day is this coming Saturday, April 22.
Of course I said yes!
Here is an EQ mock up of the runner in greens and blues.
It is such a quick and easy little runner with a big impact! Love it!
Our Earth is important; we must continue to take care of her so she can take care of us.
Let's celebrate our beautiful planet with a fabric and pattern giveaway. You will receive the Stroll pattern and the fabrics to make the runner as pictured above.
Go over to Facebook;( I know, I know!) but you can just click here for my Facebook page and here for Kirstyn's Facebook page and leave a comment on our Earth Day posts. Now, if you leave a comment on one post, you are entered. If you leave a comment on both posts- well then, you are entered twice! Two chances to win!
And if you want to "Like" our pages while you are there, that would be great!
Contest is open until midnight (PT) Saturday night April 22. Sunday, we will post a winner of the fabric pack and the pattern which you will be able to use to make your own runner! Backing too!
And we apologize; the contest is only open to those in continental US. The shipping is just too much otherwise!
happy quilting!
Kate