Hi friends!
Welcome to day 5 of the Just My Type fabric bog hop! Have you been enjoying all the posts?
If you missed any posts this week, the entire schedule is below.
Just my Type fabric
First, let's talk fabric. Just My Type is a new fabric collection by Tammy Silvers for Island Batik.
Click here if you want to take a closer look at the fabrics!
What a great line- a modern color palette mixed with vintage typewriter images.
Breakout
My first project from the line was another modern twist on a classic pattern- Breakout!
Breakout is a log cabin quilt made modern. Click here for the pattern.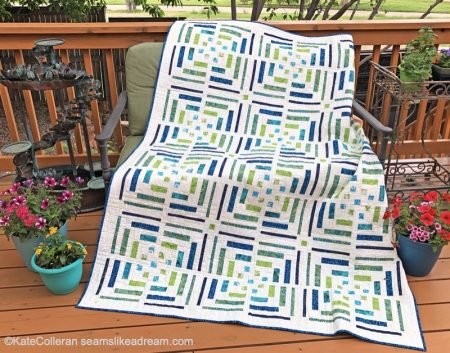 I love this quilt!
If you want to see other quilts I recolored with the Just my Type fabric, click here!
Pack it Up!
My go to pattern to use when showing off a fabric line is my Pack it Up bags! You get to see a bunch of the fabrics in the braid and ideas on how to mix the prints!
I made the small.
And the medium.
Oh! and large! And the ex large is ready to make!
These bags are like potato chips- you can't just have one!
OK- which bag is just your type??
Giveaway
I have to decided to add a bonus giveaway to this post! I have a 2021 Quilter's Planner that I would love to share with one of you. And there might be a small bit of Just my Type fabric included! Anyone interested?
Giveaway closed! Thank you to all who entered!
Leave me a comment on this post and let me know which Pack it Up! bag above is your favorite and you will be entered to win. Easy peasy! I will draw a name Monday Dec. 14th.
Open to residents of the continental US only. sorry! Otherwise it won't get there in time!
Blog Hop Schedule
Be sure to hop over to all the posts and see what the other designers have done! You will be impressed!
December 7 Tammy Silvers, Tamarinis https://tamarinis.typepad.com/tamarinis/
December 8 Jennifer Thomas, Curlicue Creations https://curlicuecreations.blogspot.com/
December 9 Shayla & Kristy Wolf, Sassafras Lane https://sassafras-lane.com/blogs/news
December 10 Kris Poor, Poorhouse Quilt Designs https://www.poorhousequiltdesigns.com/blog
December 10 Swan Sheridan, Swan Amity www.swanamity.com/blog
December 11 Kate Colleran, Seams Like a Dream seamslikeadream.com/blog
December 11 Annie, ByAnnie https://www.byannie.com/byannie-blog
December 11 Tammy Silvers, Tamarinis (roundup post), https://tamarinis.typepad.com/tamarinis/
Happy quilting!
Kate
Do you know about my Log Cabin Master Course?
I taped a series of 3 Log Cabin classes for Quilting Daily and they are offering them again together as one Master Course. Click here to read a blog post about the course and get more information! It's only open for a short time so don't wait too long!