Hi friends!
How are you doing with your Luminous quilt? I have seen some pictures of your blocks and I am so impressed with what you all are doing!
My

new

Luminous Quilt
Today Tammy and I want to share with you our NEW versions of Luminous! Back when we started our quilt, we knew we were going to want to make the quilts in our new fabrics lines. 
My new quilt is made in my new Signature line from Island Batik called Tiki Punch, designed for me by Kathy Engle. It will be in stores in November.

I love how the quilt came out! 
We continued with our color stories- my version stayed as the Dawn coloration with a light background representing the pale light in the dawn sky, with the stars still visible before the sun fully rises.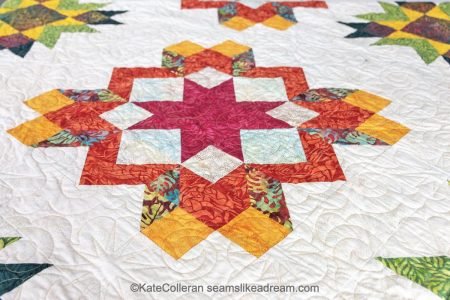 The Tiki Punch fabrics have a richness to them- with vibrant yellow and golds, rich reds and bright green.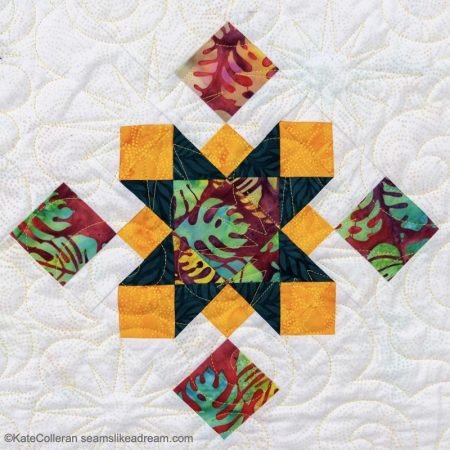 Tammy designed a line of fabric for Island Batik called Just My Type and it will be in stores in November. And she made her quilt in those fabrics. Click here to go to her blog post to see her version. Tammy's quilt was done as the Dusk version.
Bonus Quilting Giveaway
Remember today is the last day you can get the Luminous individual block patterns or the full pattern as a PDF at the introductory price. After today, the individual block patterns will no longer be available and the full pattern will only be available as a paper pattern.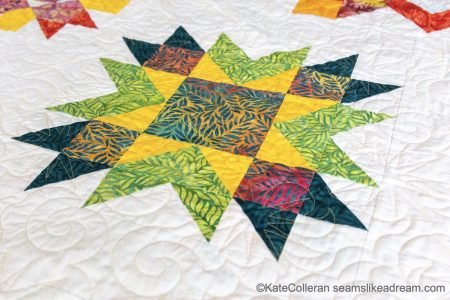 As a special gift to celebrate getting this far, we decided to offer a free bonus pattern!
The pattern for this fun table runner is available now, but only throughout Sunday May 17th. Click here to get the free bonus quilt pattern!
You will need the Block 1 and Block 3 block patterns to be able to make the blocks in the table runner- the runner pattern tells you how to put them together.
Last Quilting Giveaway of this Quilt Along
And we have one last giveaway from one of our wonderful sponsors in our quilt along! Another package of quilt batting from The Warm Company!!!
To enter this quilting giveaway, use the Gleam widget below AND leave a comment in the comments for THIS post telling me what project you are working on now.
Giveaway is open to US residents only and ends at midnight Sunday May 17th.
Next Post in the Quilt Along
I hope you enjoyed the Adventure in Color Quilt Along! We plan to have one more post on June 3rd. We have asked some other designers, who do a lot of quilting, to give us their best tips on how to quilt Luminous. So be sure to come back here on June 3rd to read their tips!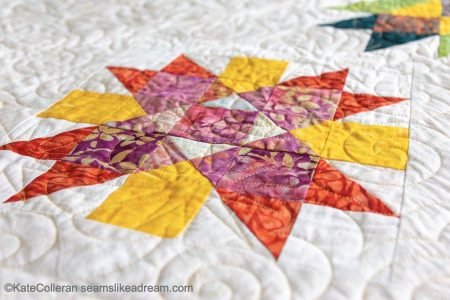 Thank you to everyone who has participated in our Luminous Quilt Along project! 
Be sure to click here to head over to Tammy's post and see her new version of Luminous!
Happy quilting,
Kate
Retreat From Home
It is getting close to the Retreat From Home weekend!! Have you signed up?
 Click here for more information! Earlybird registration ends soon!
My Newsletter