Hi friends!
Wow! Can you believe it? We are almost done with our Luminous Quilt Along Project!
Today in the Adventure in Color Quilt Along, Tammy and I are talking about the setting of the quilt. I am going to talk about prepping to sew the setting and Tammy will have tips on sewing it together.
The Quilt Setting
This quilt is not set in rows. All the blocks are on point and the quilt is built in sections.  Then the sections are sewn together.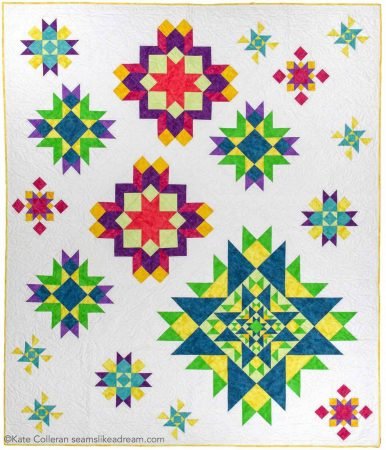 At the end, you will trim up all four sides and then add a skinny border.
Quilt Cutting
There are a lot of pieces for the setting. As you cut, my BEST TIP is to label each piece with the size and section number.  For most of the pieces, we have listed in what section each piece it goes.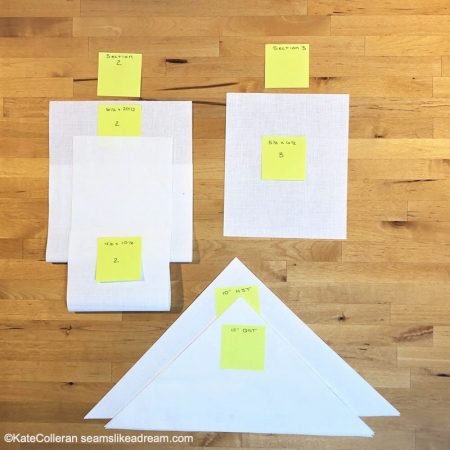 Trust me, there are a lot of pieces, many are close in size but not the same size and it is easy to get them confused!
I will repeat this essential tip: Label EACH piece with size and section number.
Sewing your Quilt
For this step, my best tip is to sew one section at a time. Don't try to chain piece here, just go step by step. 
And be sure to note, that along the outer edges, there will be places where things don't match up. That is OK! You will be trimming the quilt top to size at the end and making all those uneven bits go away. Using oversize pieces along the edges allows for some flexibility in case not everything lines up the way it should. Better to trim a little off than not have enough!
This setting can look intimidating. It's actually pretty straightforward and goes together nicely as long as you get the right size piece in the right place!
Ask me how I know!
Get the Setting Pattern
To purchase your copy of Luminous Setting, click here. For International customers, click here to go to my ETSY shop.
Now click here to head on over to Tammy's blog and get her tips on putting things together- she always has such great information for you!
And there is a giveaway there too!
Next time in the Adventure in Color Quilt Along, Tammy and I will be sharing a free bonus pattern ! 
Last day to get the Luminous Quilt Along PDF patterns is May 13, 2020
And just a reminder, on May 13th the PDF patterns will be going away. So if you have been purchasing patterns s they become available, don't wait as after May 13th, the pattern will only be available as a full paper pattern.
I hope you have been having fun making your star/goddess blocks and we can't wait to see your quilts!
Happy quilting,
Kate
Retreat from Home
Have you checked out the Retreat from Home yet? It is an online retreat where you can sew at home and get classes, open sew time, community sharing, prizes and more!
Click here to go to my page with more information and a video of all the instructors!
Quilting Newsletter
Have you signed up for my newsletter? Get a free quilt pattern when you sign up!