Hi friends!
Today is a great day- I get to share with you my 4th Signature collection with Island Batik, the batik fabric line called Contempo and some fun quilt projects!
Looking for the giveaway? It's at the end of the post!
Batik Fabric Line Contempo
This year things haven't always happened on schedule. Shipping delays have impacted so many businesses and fabric is just one of them. But finally this wonderful fabric line is shipping to shops! YAY!
Having a Signature line means Island Batik's amazing in house designer, Kathy Engle designs the fabrics for me! How fun!
Contempo is a bright, truly fun batik line of fabrics that will just make you smile. When I saw the line, it made me think of Mardi Gras.
I couldn't wait to play!
Quilt Project – Portland Parks
One of my patterns, Portland Parks, was just waiting for a little refresh. While I love my original quilt, it is fun to update the pattern with a new look. And when I saw the Contempo line, I knew this would be perfect!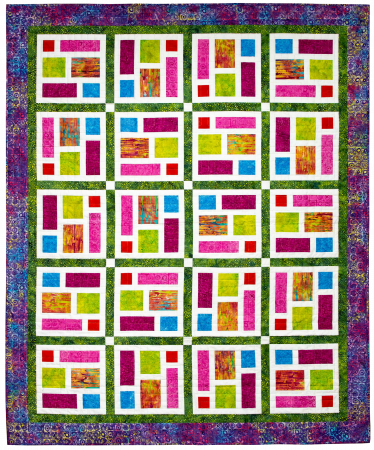 I love how bright the new blocks are and the deeper green sashing adds just the right amount of balance.
New Quilt Project- Gemstone
Gemstone is a new quilt pattern I designed to use with the batik fabric line Contempo! It is one of my favorite kinds of patterns- fat quarter friendly!
I also like quilts that are quick to piece and look harder than they are. This is one of those!
The pattern includes 3 sizes:
Kid quilt: 48″ x 48″
Lap quilt: 64″ x 72″
Queen quilt: 96″ x 96″
Click here to read more about the pattern!
Quilt Project – Bright Hope
I also recolored my quilt Bright Hope using the fabrics and for this quilt decided to use a darker background. I used a batik called Blueberry, a wonderful rich blue.
Don't you love it? I did make the quilt but it is not back yet from the long arm quilter so I have to show you the EQ version instead of the real quilt!
My favorite thing about this quilt pattern is well… there are 3 things I love about it!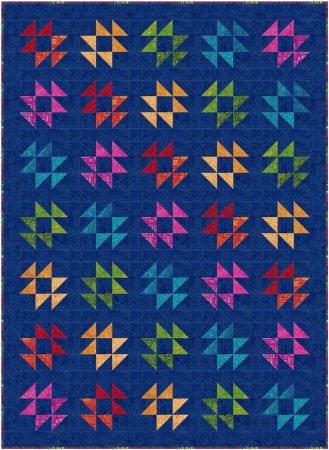 One, it is Fat Quarter friendly! Two, it is an easy to piece quilt!
And, three, there are 2 bonus quilt projects so you can use up the leftover bits!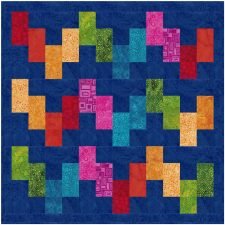 Other Designer Quilt Projects
I am not the only designer who had fun playing with the new batik fabric line Contempo!
This project is from Nancy Scott of Masterpiece Quilting called Peacock Proud. You can go to her blog post to read more about it!
And here is a quilt by Deb of Quiltblox called Bouquet!
You can find her pattern in her shop or in her ETSY shop!
This next quilt is from my friend Annette Ornelas of Southwind Designs. Annette always makes these curvy blocks and I love how this quilt, called Spinning Wheel, looks in the Contempo fabrics!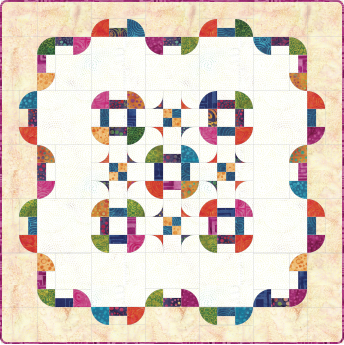 And here is one from Gail Shephard! Love the fabrics with the black! Click here to go to her blog post to read more.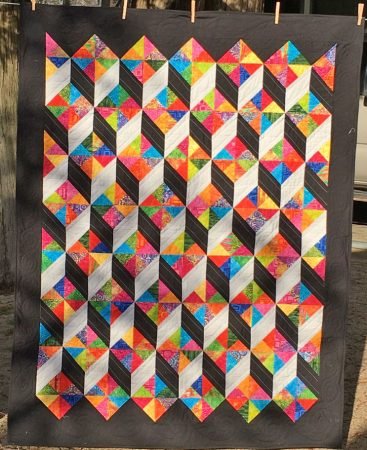 And these 2 quilts are from Swirly Girls! The first one is Sunset Stroll.
And this one is called Triple Side Step! Aren't they great?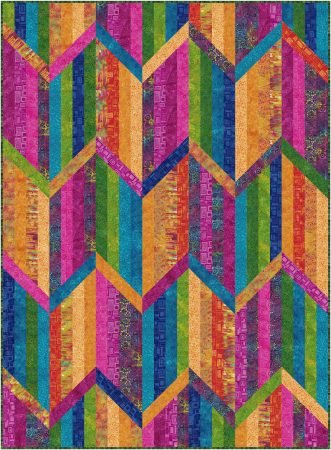 Want to see more designer quilts? Head over to Instagram and follow the links in my post to the other designers!
Giveaway!
What kind of blog post about a new fabric line would this be without a giveaway? I have 2, yes TWO, FQ bundles of the Contempo batik line to giveaway to a couple of lucky winners!! Woot! Woot!
Giveaway is closed! Thanks to all who entered!
To be entered for a chance to win, leave a comment on this blog post. You have until Sunday May 22 at 9pm MT to comment for a chance to win. 
happy quilting!
Kate