Hi friends!
Today I have been working on a new quilt. There are lots of HSTs and QSTs and other pieced units in the blocks and I love how they are coming out.
But, sometimes it is a struggle to find the best way to press a block. I always start with pressing things to one side.
It may be due to the fact that I have been pressing to one side for years, or the Quilt Police stated you must press to the dark, or because way back in time when I started quilting, pressing seams open lead to, over time, the batting creeping thru the seam. I believe they called that (back in the olden days!) bearding.
One of my favorite ways to press is to rotate the pressing on the back of the block so the center of 4 seams lays nice and flat.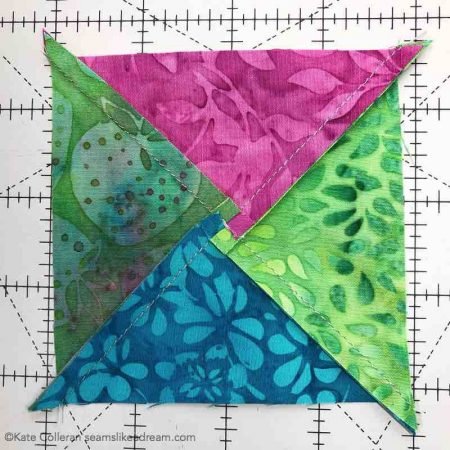 Some call this 4 patch pressing, rotate pressing, twirling the seams… it has lots of names!
Regardless, I know when I press the seams to one side and therefore can nest my seams together, my blocks seem to work out better. But sometimes it just can't happen. Then I have to decide, do I still press to one side or do I press open?
I usually end up pressing to the side, unless it is one of the tiny red and white blocks. For those I have been pressing some seams open.
So, are you an open seam presser or a press to one side kind of quilter? Do you like when a pattern suggests how to press?
Back to the ironing board! I have a lot of units to press… I must press on! (Hahahah!)
happy quilting!
Kate