Hi friends!
I thought today would be a fun day to explore the idea of the quilt blocks remixes and how to start redesigning a quilt block. I have been posting about these weekly on IG and posting about here 1 x month. Here are links to a few of the most recent remix blog posts:
How does one start a remix? What is the goal?
Redesigning a quilt block- how to start?
Starting a block remix or redesign is a little easier than starting a quilt design from scratch. You have a template to start with; the original block. 
First I like to look at the units of the block- what is it made of? HST units? FG units?
The block from our May remix challenge was the Arkansas Snowflake block.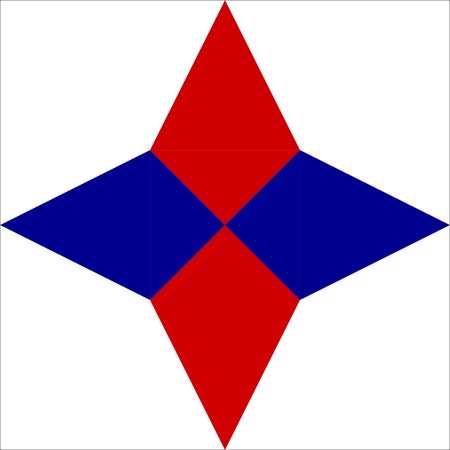 The block consists of 4 long rectangle units, a center QST unit and 4 corner squares. 
I also look at the block construction- is is a 4 patch grid, a 9 patch grid? How is the block put together? 
Then I look at the block and the colors- how many colors were used in this version? How does color affect the way the block is perceived? How much can just changes in color affect the look of the block?
How to start the redesign or remix
I am super lucky in that I can play with the blocks in EQ8. (Electric Quilt) using a computer program does make the process easy and sometimes fast!  With a click of the button I can easily see what a change will look like. 
But it is also possible to do this just using graph paper. Putting pen (or pencil) to paper gives you a new perspective as you redraw and reimagine the block.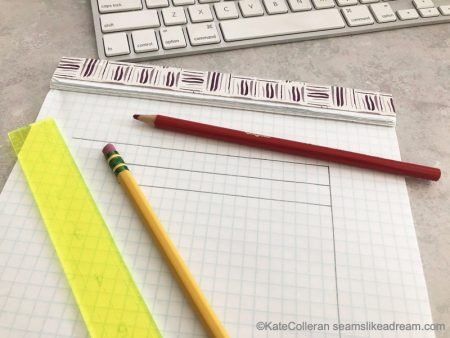 I actually sometimes find myself starting with paper and pencil before heading over to the computer.
For me, the idea is to see what other shapes are in the block or how can the same  shapes create a new look? What happens if I remove the color; what new shape do I see just from the lines?
Small Changes- big results!
Sometimes small changes can yield a totally new look! For my May block, I started with the exact same shapes, in the same places as the original. 
To start, I rotated the long triangles so they no longer formed that center star. I made the center QST unit smaller so it floated in the center of the block. 
For the corner squares, I ended up adding triangles- these created the original shape with my long triangles and created a secondary design as the blocks were put together.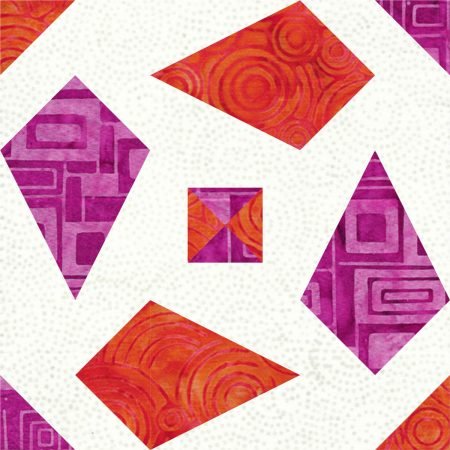 We all started with a simple Hourglass block for our April remix. AKA the QST unit!
To remix, I felt the need to add more elements. But I wanted to keep to the basic hourglass shape- meaning the block broken into 4 quadrants.
In EQ, I just stared adding lines inside one of the quadrants. Seeing what new shapes I could make.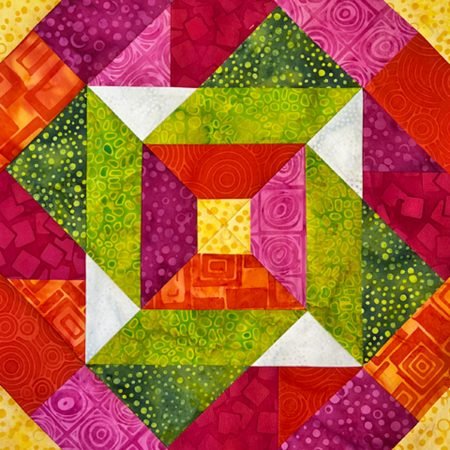 And then I repeated the lines in each of the quadrants to see what the block would look like- first on it's own and then when put together with other blocks.
Secondary Designs
I love when blocks create secondary designs. But not all secondary designs are created equal!
In other words, sometimes a block looks great all on it's own, but when put together with other blocks of the same design, well… sometimes the secondary design isn't all that interesting.
For my 5 patch chain block remix, I actually created 2 new 5 patch chain blocks that created a great look when put together!
It's so important to see what the secondary design will really look like!
Color and the redesigning of a quilt block
Color can really make or break a block redesign. For the last few months, I have been using a new batik line from Island Batik called Contempo. Don't you love the bold bright colors in this line?
Did you see my post about it and my new patterns using it? Click here.
I love talking about color and color placement. It is a struggle for so many quilters and trust me, I don't always get it right! But I try to keep a few things in mind as I recollect and redesign a quilt block.
1. To what part of the block (or the secondary pattern) do I want the viewers eye to go to? 
2. What part do I want to be in the background?
These are pretty easy to answer when you are working with a star block. You want the star points to stand out!
May Block Color Choices
With my remix of the Arkansas Snowflake, my "star points" weren't stars anymore. But they were still the star of the block (heehee!) so they needed to have good contrast with my background.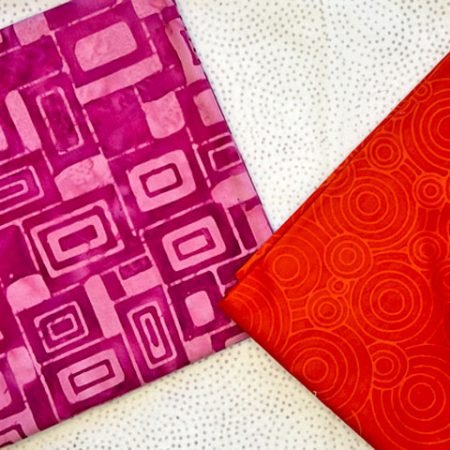 I kept the color palette tight with this block- only 2 fabrics and a background.
April Block Color Choices
For my Hourglass remix, the question was, what designs did these new shapes create and which ones did I want to stand out?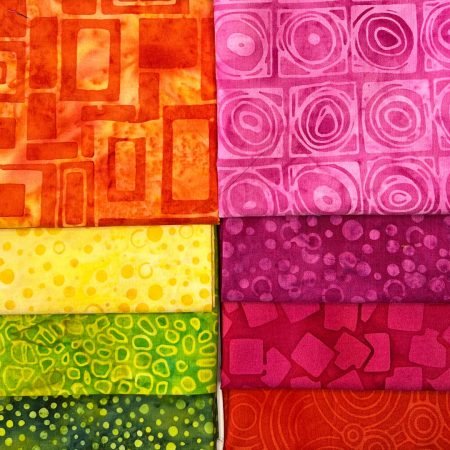 For this remix, I choose to use a bunch of colors (8 plus a background). Which gave almost a scrappy look to the look.
But I could have used less colors and gotten a similar look. For this version below I used 4 colors and a background.
Here's the quilt.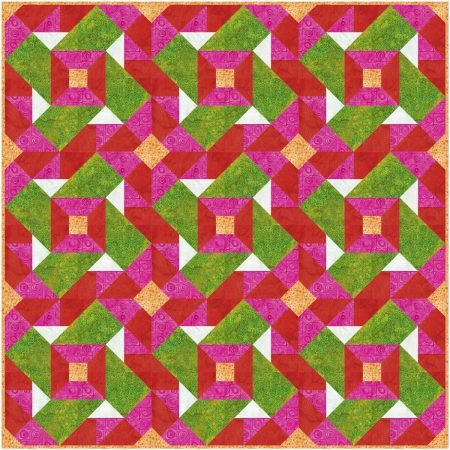 So now before I can write this one as a patten, I will have to decide- more colors? Or less colors?
I hope you have enjoyed a little peek into my remixing and redesigning a quilt block process! I can't wait to show you my remixed and redesigned block for this month; we are playing with the Bear's Paw. And my remix looks nothing like the original! That post will be on June 29th!
happy quilting!
Kate