Hi friends!
I hope you had a great time on the Piece and Quilt with Precuts blog hop. All of the designers did such a great job. It was fun to see what each one did with Christa's patterns.
And thank you for all the kind comments on my post. I am so glad to hear that my story about quilting my quilt has inspired some of you to try quilting your quilts. What is the saying? Done is better than perfect.
(Wondering who won the ebook? At the end of this post I will let you know who won from my giveaway.)
I know many of us have been watching the devastation happening in Houston due to hurricane Harvey. And we may want to help but are not sure how. Here are a few ways to help. One is make a donation to the Red Cross whose volunteers helped so many thru this.
If you are on Instagram, The Quilter's Planner shared a link to a list of places that can use donations.
And here is another list of places.
Here is another way that speaks to us as quilters.
This is from the Linus Connection website:
If you are not in the Austin area, but would still like to contribute a completed blanket, we accept quilts, single layer finished fleece blankets, and yarn blankets 30″x30″ – 54″x74″ (more information below).
Remember that recent Island Batik quilt I made for the August QAYG challenge?
Now I know what I made it for. A quick washing and then it will go out in the mail in the morning.
A few of you asked for a more in-depth tutorial on the QAYG technique. I will work on that for you.
I can't believe today is the last day of August. Summer always seems to fly by doesn't it? Even when you are a parent with kids home all summer; in June, summer seems endless and then it is August and time flies. I know technically summer goes until September 20, but the end of August always seemed like the end of summer to me.
To be honest, I loved going back to school- buying new notebooks and pens and pencils (I am still a paper goods junkie!), getting new school books and then covering them with brown paper bags (dating myself, I know!). The September challenge for the Island Batik ambassadors is called Back to School and we are having a blog hop. It starts on Monday Sept 4th and runs all month. My day on the hop is not until Sept 28th. That gives me a lot of time to put together a fun project. Here is a link to the Island Batik page with all the links for all the posts! There's even a fabric giveaway!
In the meantime I am working on a bunch of smaller projects. I just pieced a small quilt top using my pattern Saybrook Signals and this fun mini charm pack.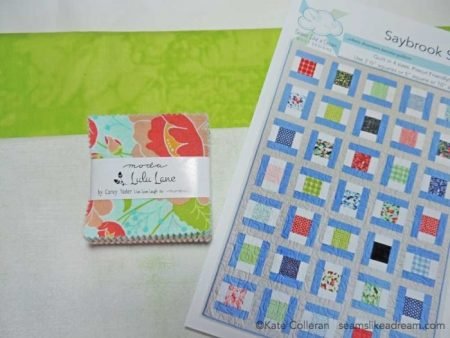 I am trying to get ready to have a booth at the AQS show in Des Moines Oct 4-7th and so I am making some samples for the booth. Will you be going to the show? If yes, please be sure to pop by my booth- Booth 1607- and say Hi!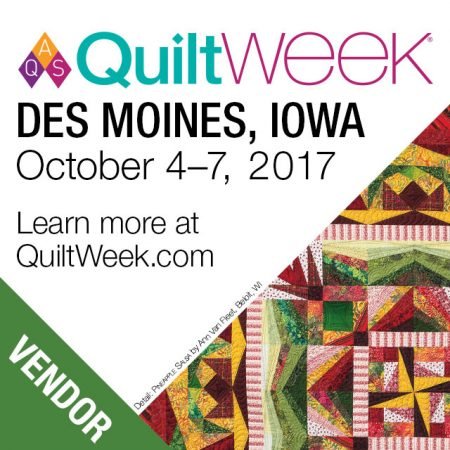 I will be quilting this quilt myself and I will share what I did when it's done. I have decided that I need to quilt a few more of my small quilts myself. I can do it! I may even use a thread color similar to the one I used for Squiggles.
I am also working on a new bag pattern. Not a purse type bag, just one to corral all that stuff we collect. It will have 4 sizes and uses my new Mini Braid Template! I will show you more soon so stay tuned!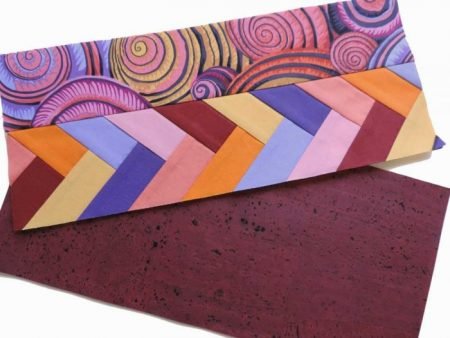 I am making some of the samples with the new cork fabric and let me tell you, it is easy to use and adds a fun touch of something different to your bag.
Oh- the winner! The winner of the Piece and Quilt with Precuts ebook is…. Sue!
Congratulations! I have emailed you to let you know.
Have a great Labor Day weekend and happy quilting!
Kate
p.s. This year I am part of the IAQ- an online quilt group. am one of the many talented and awesome guest designers!
Check out the list:
The fun thing is that even though we are coming into Sept. ALL the patterns are there for you- no matter what! Over 50 patterns are in the group area and more are added monthly. You can see the quilt I designed here
in this blog post
.
In addition to all the patterns- the Patchwork Planner & Journal has been added as well as a new virtual swag bag with sponsors who are providing discount codes and giveaway goodies to members.
There is a warning though– it's only open for enrollment until
midnight
tonight. You don't want to miss out! Make sure you sign up before it closes.
Click here
on my affiliate link to register now!
SaveSave
SaveSave
SaveSave