Hi friends!
A Quilter's Alphabet: Quilt Borders, Batting, Backing and Binding Tips
For today's post in the A Quilter's Alphabet series, Tammy and I are on the letter B. Tammy will review a few terms for you in her post and in this post, I am going to review borders, batting, backing and binding!
I love how all these terms related to the finishing of a quilt start with B!
Quilt Borders
When someone mentions quilt borders, they usually are referring to a a strip of fabric or blocks that surround and frame the inside of the quilt. Though quilt blocks can have borders too!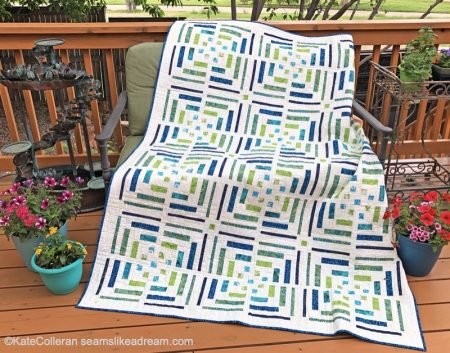 Borders can be a variety of sizes and shapes. They can be skinny, wide, pieced blocks, added as straight pieced or mitered, have straight edges, or scalloped edges or even be angled!
Straight borders usually refers to when you add a piece of fabric first to the sides of the quilt and then a second set to the top and bottom fo the quilt.
Mitered borders are added to the all 4 sides at once, stopping a 1/4′" away from the edges and then they are pieced on an angle to create a seam line that goes to the corner.
Batting

your Quilt
Batting is the layer in between the top and the back of a quilt. Batting can be cotton, polyester, wool, fleece or flannel… that are so many options!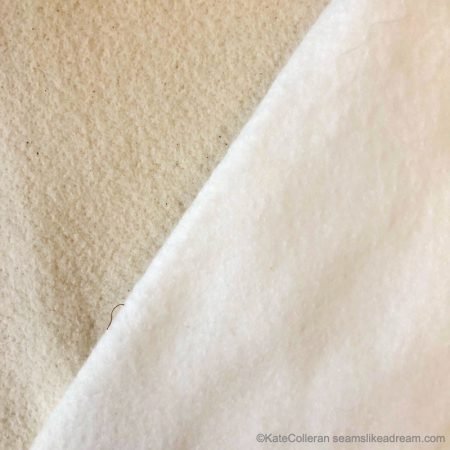 It is best to know how thick you want your quilt, how warm or how light a layer you want it to be to help you determine the best batting for your project.
Backing your Quilt
This term is an easy one! It refers to the fabric(s) on the back of the quilt.
Backing fabric can big on large piece of fabric, a pieced back made of the same fabric or even a bunch of fabrics or blocks pieced together.
Binding

your Quilt
The finished edging for a quilt. Most quilts have a binding that wraps around the raw edges of the quilt and encases the top, batting and backing.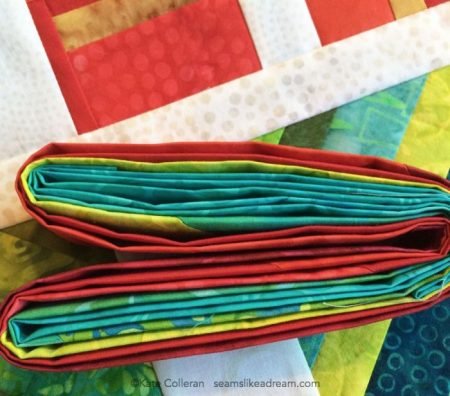 Double fold binding (AKA French Binding) is usually made from strips of fabric anywhere from 2″ to 3″ wide and the strips are sewn together, then folded in half, wrong sides together. The folded strips are then sewn to the quilt.
Single fold binding uses smaller strips that are not folded in half before being attached to the quilt.
The strips for binding can be cut from the straight of grain, lengthwise or crosswise, or on the bias. Bias binding is good for quilts whose edges have curves, such a quilt with scalloped edges. Bias strips are cut on the diagonal across the fabric. We will explain more about bias when we talk about fabric grain.
If you want more information on these terms, more of a 'how to' kind of post, then click here for my post on binding, here for my post on batting and backing, here for this one on choosing color for your quilt borders and this one on adding quilt borders.
And don't forget to check out Tammy's post on quilting terms using the letter B!
Next week in the Exploring the Basics series, Tammy and I will be sharing how to make a disappearing 4 patch block! See you then.
happy quilting,
Kate