Welcome to our series exploring the basics of quilting! Last time, we discussed 3 tips for adding quilt borders. Next time, we'll be looking at how to choose a quilt design. To see all the posts in this series, click here. 
Hi friends!
This week in the Exploring the Basics blog series, Tammy and I are talking to you about batting and backing for your quilt. This will be basic information on getting your backing and batting ready.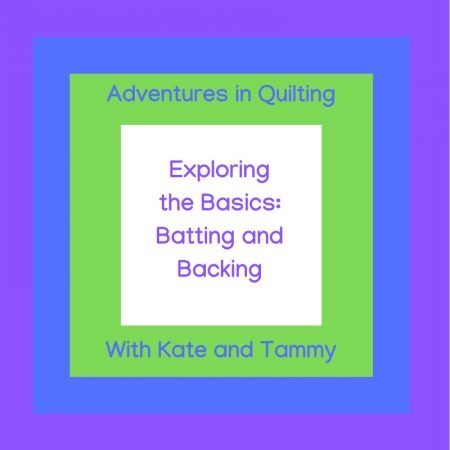 Batting your Quilt
Let's start with your batting. There are so many options for batting these days! We can start with talking about loft and fiber.
Loft
Batting is usually considered to be either low loft or high loft. Low loft battings give a flatter look to your quilt and can really show off the piecing. High loft, or thicker battings, give a puffier look to your quilt and can help the quilting shine. 
Whether you choose a high loft batting or a low loft batting can be personal preference. I almost always choose low loft. Plus it is easier to use if you are quilting on a domestic machine.
Fiber
The most common options for batting fiber is cotton, poly or a cotton/poly blend. But there are lots of others! Wool, bambo, silk, recycled, organic…. 
Cotton is popular as it is usually an inexpensive option and will result in a comfortable quilt. A cotton/poly blend has a little more loft and a little less weight than cotton alone. And a poly batt will be lighter, usually loftier and easier to quilt though if you are hand quilting.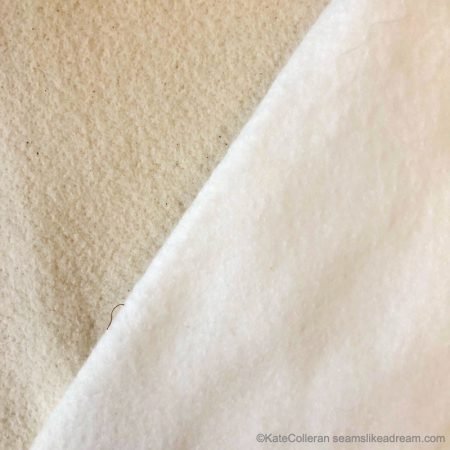 Picking a batting can be personal; you pick the fiber and loft that gives you the look you like! And sometimes it depends on the quilt and it's use. A table runner might be better with a cotton batting that is a little heavier and low loft.
Do you have a favorite batting? I would love your thoughts. I used to use Warm 80/20, unless I need white batting and then I used Warm and White, but my new favorite is Warm 100 from The Warm Company.
Warm 100 is a cotton batting with a 100% cotton scrim and I love how soft my quilts feel. They are flat, which I like, but they don't feel quite as heavy as a regular all cotton batting. 
And for my table runners, I like Warm and Natural.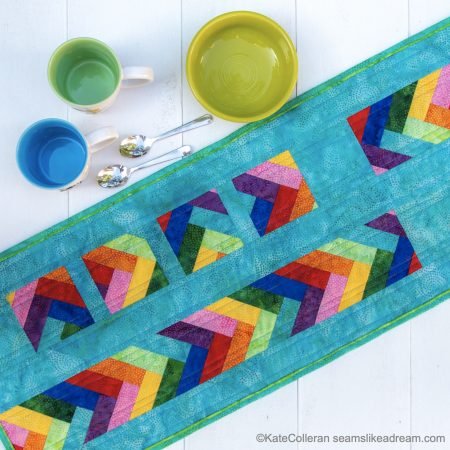 Prep your Batting
The batting should be at least 2" bigger than your quilt top on all sides. BUT if you are having your quilt quilted by a long arm quilter, always ask them their preference for batting and backing sizes!!!
Backing
Your backing can be one big piece of fabric…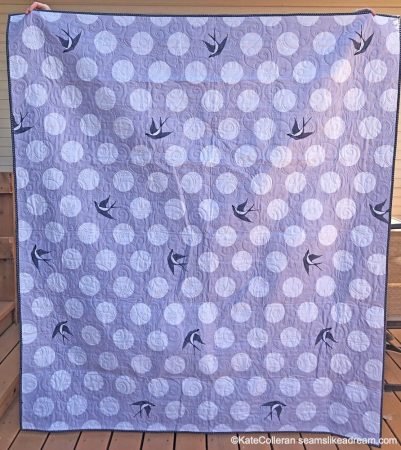 Or a couple of pieces pieced together…
 Or a lot of pieces pieced together! I love pieced backs as they are just like having a second quilt! 
Here are a couple of things I do to prep my back.
To calculate how big my back should be, I add 8″ to the size of the quilt top so my back is 4″ bigger than my quilt top along all 4 sides. So if my quilt top is 50″ x 60″, then I plan to make my back at least 58″ x 68″.
Before sewing the back pieces together, I make sure to cut off the selvedge edges. Those can be harder for the needle to stitch thru as you quilt and they can sometimes cause puckers along their edges. It is best to just remove them.
If I am piecing the back, I usually sew the sections together with a ½" seam and press the seam open to reduce bulk. Unless I am adding leftover blocks- then it is the usual ¼" seam.

 
Once I have pieced the pieces together, I press the entire back and then square it up. It just makes it easier for my longer quilter to load the back onto her machine!
Then the quilt, the batting and the backing are off to the longarm quilter for her to do her magic!
Or if I am going to quilt it myself, it is time to baste!  Basting a quilt sandwich is a whole other post!
Click here to go to Tammy's post and get her thoughts on batting and backing. Next time in the Exploring the Basics series, we will chat about quilting!
happy quilting,
Kate
Quilt & Tell
Have you heard of Quilt & Tell? It's a quilting podcast and today I am their guest! Click here to go listen in!