Hi friends!
Today on the Text It! book blog hop I get to show you the pillow I made!
(If you are looking for the Adventure Quilt Block 6 post, click here!)
Now you can see Sherri's pillow right there on the cover- the Pillow Talk pillow. I love the colors she used and I was tempted to use something similar. But I went into my stash and found some great blues and greens that would go perfectly in my living room.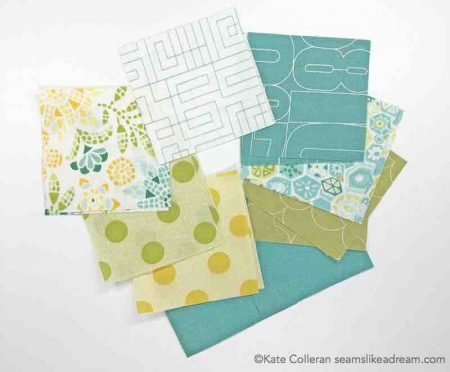 My couch is a color I like to think of as sand and I have a beautiful water blue chair so basically, though I live in Colorado, I have a beach theme to my colors! You may take the girl away from the beach, but you can't take the beach out of the girl!
Not only did I haven enough of the fabrics, I even had some wonderful white wool and this blue/green wool to use for my letters. The only thing I had to buy for this project was the green embroidery thread to outline the work Talk!
I hand embroidered my letters to my pillow because I like to hand embroider.
It has been awhile since have done any stitching like this by hand, so I was not as polished as I could have been, but hey! it's done, it looks good and done is better than perfect! But you can machine stitch them down. Whatever works for you.
I quilted straight lines along the angles just using the edge of my walking foot as a guide and occasionally using a ruler or my favorite blue painter's tape to stay on the straight and narrow! I didn't go thru the letters; I just stopped and started a lot.
Love my pillow! Lark approved as well.
Sherri Noel from Rebecca Mae Designs wrote such a great book. There are a ton of awesome projects, all with fun sayings on them. I love that there are quilts, smaller projects like pillows and wall hanging so you have options. 
And her tag line on the cover of the book- Quilts and Pillows with Something to Say. Love. Love. What a fun way to express yourself!
Want to see more projects from the book? Go to the end of this post to see the entire schedule. There are lots of giveaways with lots of chances to win goodies!
If you would like to purchase a signed copy of the book from Sherri, go to: https://iquiltmodern.bigcartel.com/product/text-it-quilts-and-pillows-with-something-to-say
Giveaways!!
Now here is the really fun part- the giveaways! There are 2!
Giveaway #1
Martingale has generously donated a hard copy of the book to give away to one lucky blog hopper here! First, you must be a resident of the US.
(But, if you don't live in the US, don't despair- there is another giveaway open worldwide below!)
To enter, go to the widget below, enter your name and email and then leave comment on this post and tell me what is your favorite size quilt project to make or do you have a favorite quote you would put on a quilt?
Giveaway#2
Aufiril thread has generously donated 2 spools of thread- random colors- for one lucky winner worldwide! 
To enter, leave a comment on this post and tell me what is your favorite size quilt project to make or do you have a favorite quote you would put on a quilt?
To recap, to enter the book giveaway, you have to fill out the widget and leave a comment,  and it is open to residents in the US only. To enter the thread giveaway, just leave a comment on this post.
happy quilting!
Kate
Schedule of Bloggers:
MONDAY MARCH 4 – BEE HAPPY
PAMELA JANE MORGAN –MYSWEETLITTLESTITCHES                      
SHARON LILABELLE LANE – LILABELLELANECREATIONS
TUESDAY MARCH 5 – INFINITY Quilt
LAURA PILAND – SLICEOFPIQUILTS
LEANNE PARSONS – DEVOTEDQUILTER
KATIE MUTER STARCHER – KATIEMAEQUILTS
WEDNESDAY MARCH 6 – PILLOW TALK
KATE COLLERAN – SEAMSLIKEADREAM
CHERYL DAINES BROWN – QUILTERCHIC
DORIE HRUSKA – FOREVER-QUILTING
THURSDAY MARCH 7 – FREEDOM Quilt
JEN SHAFFER – PATTERNSBYJEN
TARA MILLER – QUILTDISTRICT
LYNN KANE – PUPPYGIRLDESIGNS
FRIDAY MARCH 8 – LOVING YOU Wall Hanging
ELLEN AULT –HANDMADE3D
SHERRI NOEL – REBECCAMAEDESIGNS
MONDAY MARCH 11 – COUNTING SHEEP Baby Quilt
DEANNE EISENMAN – SNUGGLESQUILTS
RAEWYN BARGE – STITCHINGFARMGIRL
SUSAN PELLAND – SUEPELLANDDESIGNS
TUESDAY MARCH 12 – HOME PILLOW
JOANNE HARRIS – QUILTSBYJOANNE
PATTY DUDEK – ELMSTREETQUILTS
ANDY KNOWLTON – ABRIGHTCORNER
SANDRA STARLEY – UTAHQUILTAPPRAISER
CINDY PIETERS – STITCHINATHOME
WEDNESDAY MARCH 13 – LIFE IS SHORT Wall hanging
BECCA FENSTERMAKER – PRETTYPINEY
KATIE BOCK – SEWINGWITHKATIE
ALLA BLANCA – RAINBOWSBUNNIESCUPCAKES
THURSDAY MARCH 14 – HUSTLE PILLOW
TERRI BANDEN BOSCH – MEANDERINGSALONGLIZARDCREEK
WILLOW OLSON – BEARPAWDESIGNBLOG
ERIN SAMPSON – AURIBUZZ
FRIDAY MARCH 15 – SEWING MACHINE MAT
LAUREN WRIGHT – MOLLYANDMAMA
SANDRA HEALY – SANDRAHEALYDESIGNS
CHERYL KRISEL LYNCH –CHERYLLYNCHQUILTS
SATURDAY MARCH 16 – WRAP UP
SHERRI NOEL – REBECCAMAEDESIGNS
Disclaimer: Giveaway is in no way sponsored, administered, or associated with WordPress or Shopify. By entering, entrants confirm they are 13+ years of age, release WordPress and Shopify of responsibility, and agree to terms of use. No purchase necessary to win. Giveaway starts at 12:00am MT March 6, 2019 and ends at 5:59pm MT on March 16, 2019. One winner will receive a copy of the Text It! book and giveaway is open to legal residents in the contiguous US only. One worldwide winner will win two large spools of Aurifil thread.  Odds of winning determined by number of eligible entries received. To enter: for the book giveaway, fill out the Gleam widget and leave a comment on this blog post. One comment per person. Duplicate comments will be deleted. For the thread giveaway, leave a comment on this blog post. Winner will be chosen at random from all eligible entries and notified by email. If winner can not be reached via email or prize is unclaimed after three days, a new winner will be chosen at random. Winner is responsible for paying any taxes related to the prize. By entering this giveaway, entrants release Kate Colleran Designs, LLC from any liability whatsoever. Void where prohibited by law.