Hi friends!
I want to first thank everyone who commented on the Text It! Blog Hop post and entered the giveaways. The winners have been drawn and emails have been sent!
I so enjoyed making my project for that blog hop. For 2 reasons; one, to be honest,  because it was a small project so I could get it done and not stress too much about it! And two, because I got to make a project using my stash of both fabric and wool that will look great on my couch! A win-win! 
I loved reading about your favorite quotes and what size quilts you like to make. So many of us like to make lap quilts and baby quilts. They really are great size projects and useful too! 
Quilt Guilds
Last week I was supposed to go to the Colorado Springs Quilt Guild and give a lecture. It was cancelled due to a snowstorm. I was so bummed! I love doing lectures- one of my favorite things to do! But I got to stay home and quilt and then snuggle under a quilt on the couch with the kittens. What could be better?
Kira (the pup) does get jealous though as she is not allowed on the couch.
I did get to go down to the guild on Saturday and teach a class so that was super fun. I forgot to take pictures of everyone and their blocks. Sigh.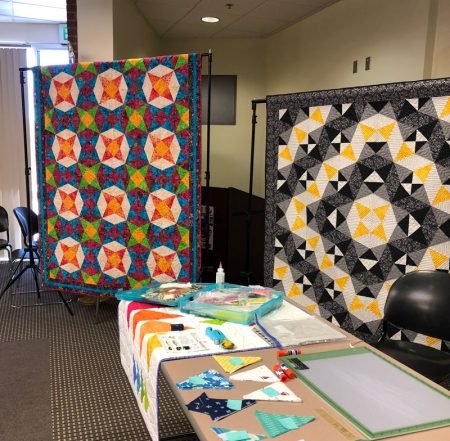 I always say I will take pictures but I am usually having fun watching the blocks come to gather and then showing them off to the group, I forget to get everyone together for a group shot with their blocks. Here are 2 versions of the quilt we were working on. 
Decorating with Quilts
The other week I was posting about decorating with quilts. Shortly after that, I went to a small local antique store and found a quilt ladder! It was fairly inexpensive (not quite as inexpensive as making one myself but… still pretty cheap!). So hubby roughly painted it with some white paint we had hanging around; it had been a ladder someone used to paint with and so needed to be covered up!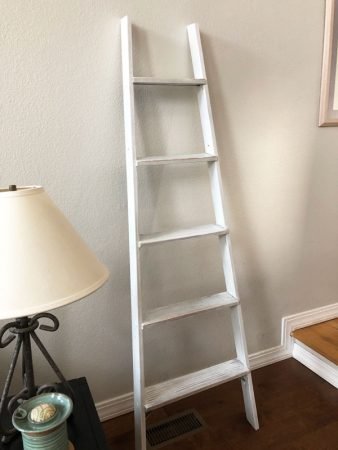 Ta-done! All ready for me to hang some quilts on.
Schedule
This week I am heading up to the Denver Mart on Thursday and Friday to go to the Quilt Show. I will be in my friend Dawna's booth, Dawna's Design Threads, on Thursday March 21st from 1pm-4pm and on Friday March 22nd from 10am- 1pm doing Braid Template demos and chatting with customers. So come by and say hi if you are going to the show and check out Dawna's great pantographs and other groovy quilty stuff!
Wed March 27th I will be speaking at the Blackstone Valley Heritage Quilters in Whitinsville, MA. If you are in the area, I hope to see you there!
My class at Ladybug Quilt shop a couple of weeks ago was cancelled due to snow. It's been quite a winter! But we rescheduled for April 20th.
Adventure Quilt
Have you been making blocks with us for your Adventure Quilt? We have been having sew much fun! Block 7 is available over on Tammy's site for a couple more days and then Block 8 will be here on my blog on this Wednesday! 
One of the bloggers making blocks along with us has been doing such a great job! Her blocks are awesome and her posts are so fun. Check out Melva's blocks and her recent AQ blog post here.
For our international adventure quilters, if you missed any blocks, I now have them up in my ETSY shop. That is the only spot where I can sell internationally. So if you missed anything, you can go there to buy a block.
See you back here on Wednesday for our next adventure!
happy quilting!
Kate