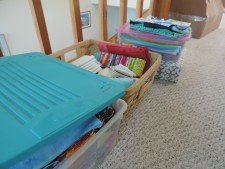 Do you ever go on a quilting/sewing retreat? This weekend I am going away. Not too far away- just about an hour away to a quilting/sewing retreat. I am so excited, but soooo not ready to go!
Some local quilters go up there and a member of the group could not make it, so they had an opening. And they offered it to me. How nice of them! The place is a home where there are lots of tables set up for weekend crafting. It can sleep 12. Everyone just brings whatever projects they want to work on. Or not work on and just relax!
I am a little nervous as I don't know much of the group, but that is OK. It will be fun to get away and sew. I am planning on working on some UFOs. I think I have more UFOs than weekend.
And of course, I am starting a new "soon to be UFO"! I am going to be making a new "cover quilt" from my book and for some reason I decided I should make one that looks like the cover quilt AND one from my scraps. That makes 2 new UFOs!
Silly girl. I have lots more computer work to do if I am going to get away this afternoon; and I am not packed, projects aren't packed…
Gotta go!
Have a lovely weekend and as always,
happy quilting!
Kate
p.s. Next week we are going to have another magazine giveaway so be sure to check back!