Hi friends!
This week I am doing 2 blogs posts- twice the fun! Jen Shaffer of patternsbyjen is doing a quilt along of her pattern- The Border Quilt. It' a great quilt so I decided to play along!
You can see her post here about the quilt and the plan for the quilt along.
And if you want to make the quilt along with us- click here to go to her Etsy shop and buy her pattern.
This week the plan is for us to show you the fabrics that we picked for our quilt. Jen is using a line from Northcott called Enchanted Forest. It's flannel with a soft, muted palette; it looks lovely.
Mine is going to be totally different. I am on a bit of a kick to use up some of my stash so I went and grabbed a bunch of fat quarters. This is not a stack of one line- these are FQs that I have collected over time and I am looking forward to putting them together into a quilt!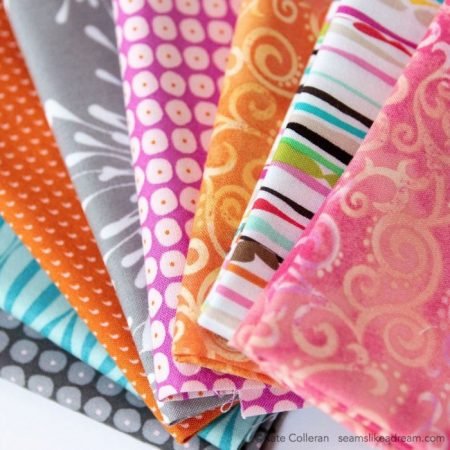 I grabbed some dots and tone on tones…
I found some bright fabrics…
And some solids and more tone on tones…
Some that I call muted brights…
Hopefully I have enough and I won't have to buy too much to go with all this but, if I HAVE to go to a quilt shop and search, or maybe go to a few quilt shops to search for just the right thing, I guess I can suffer through that.
The things we must sacrifice for our craft!
The next post in the quilt along was supposed to be in August but there is a delay in getting the Enchanted Forest fabric to shops so… it is pushed off until Sept 12th. That gives you TONS of time to get the pattern, buy some fabric and play along.
Here is the plan for posts and I will see you in September.
Sept 12 – Making the center
Sept 26 – Checker border with two background borders
Oct 10 – Star blocks with a background border
Oct 24 – Friendship stars with a background border
Nov 7 – Pinwheels with a background border
Nov 21 – Flying Geese
Dec 5 – Finishing touches
Jen even has a Facebook group if you want to join and see what others will be doing. Click here to go to Jen's post about the quilt along and there is a link in the post to her group.
happy quilting!
Kate